The inevitable tirade of disparagement toward diesel performance cars was thwarted when BMW introduced the 330d under the E46 generation 3-series in the late 90s. Since then, the 330d has been joined by the even more potent 335d derivative in the E90 and F30 3-series – it's the F30 versions we're focusing on here. 
There are few areas where this refined fast diesel recipe fails to excel. Buyers get typical BMW handling, a powerful engine - that's kinder on your wallet- and an awful lot of practicality - even more should you get a Touring estate body. Second hand, it seems to present a pretty good deal. Let's see if it stacks up in reality.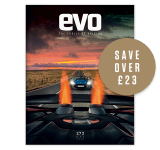 Subscribe to evo magazine
Subscribe today to have every issue of evo delivered straight to you. You'll SAVE 39% on the shop price, and get evo for its original cover price for a whole year!
> BMW F30 330d M Sport first drive review
The first F30 330d M Sport arrived in early 2012. With a 3-litre single-turbo straight-six pushing out 245bhp and a gutsy 413lb ft of torque, it wasn't afraid to stretch its legs. A 0-62mph dash is dealt with in 5.6 seconds while a sustained motorway cruise can return an impressive 50mpg. 
Little effort is required to open the large performance tap through the ZF automatic's eight ratios. The gearbox keeps you constantly stationed in the pith of the torque making for easy overtaking. To quicken things up you can shift yourself with wheel-mounted paddles and flick through the selectable drive modes. Rear- or XDrive all-wheel drive is available for those wanting the extra security of more traction.
The standard 18-inch wheels (19-inch are optional) are suspended by passive or optional dampers for the lowered and retuned M Sport package. Factory fresh, prices started from £36,610 for the saloon, but today you can pick one up from £18,000. 
Upping the ante was the new range topper in the F30 series, the 335d. An extra turbo forced more air into the six combustion chambers producing 309bhp, and 465lb ft of twisting force from a lowly 1,500rpm. This was efficiently channelled to the road via four-wheel drive (no rear-drive option here). 49.6mpg was achievable despite the sports car-worrying 0-62mph time of 4.9sec.
Plenty of first owners specced their cars beyond the 50k mark with a suite of options; adaptive suspension (£515), adaptive LED headlights (£850) and a head-up display (£825) are worth looking out for. Estate bodied workhorses were available in M Sport trim, the 335d Touring was the priciest derivative at £42,820, but an F30 335d can be acquired form 23k today.
During the latter part of 2015 the range underwent a mid-life facelift. Minor cosmetic changes maintained the sharp and discrete appearance, more pleasing though were revisions to the chassis and handling that addressed one of the few initial criticisms, that of steering feel.
Lighter on fuel, and on its feet - in all but the most dour of conditions - the rear-wheel drive 330d is the sensible choice. The 4x4 335d's all-weather talent and brawnier performance does hold justifiable appeal especially when you realise the scope for tuning.
Specialist Birds can find an extra 71bhp and 58bhp from the 335d and 330d respectively. Much more alarming are the great wodges of torque that can liberated; pushing total torque to an R8 V10 Plus dwarfing 546lb ft in the 335d, that's 133lb ft more than the German supercar. 0-62mph is slashed by a full second into supercar territory, with the 335d making the dash in 3.9sec. Do you still have a downer on diesel?
Specs
BMW 330d M Sport (335d in brackets)
| | |
| --- | --- |
| Engine | In-line 6cyl, 2993cc, turbodiesel (twin-turbo) |
| Max power | 254bhp@4000rpm (309bhp@4400rpm) |
| Max torque | 413lb ft@2000-2750rpm (465lb ft@1500-2500rpm) |
| Transmission | Eight-speed auto, rear-wheel drive (4WD) |
| Weight | 1540kg (1590kg) |
| Power-to-weight | 168bhp/ton (197bhp/ton) |
| 0-62mph | 5.6sec (4.9sec) (claimed) |
| Top speed | 155mph (limited) |
| Price new | £36,610 (£42,820) |
Checkpoints
Engine
Both motors branch from the N57 family of aluminium constructed, straight -six common-rail turbodiesels with variable-geometry turbocharger(s). By-and-large the pair are sound units and wholly sympathetic towards a remap, but some of the peripherals can develop niggles, particularly if the car is constrained to a town domain and short trips. 
High miles keeps these cars healthy — 20k a year is the sweetspot. BMW specialist Kevin Bird (birdsuto.com) says the DPF can need changing out if the car isn't given a good hustle on a regular basis. Budget £2000 for a new one. Rough running and leaks are often caused by the plumbing of the turbo(s) weakening over time, a problem amplified by the aforementioned short journeys and stop-go driving.
The EGR (exhaust gas recirculation) valve commonly fails and is prone to capitulate at any mileage. 'The issue is by no means unique to these cars,' says Kevin, 'but it's another potential bill – around £500 to fit a replacement.' A gruffness from the engine accompanied by misfires will indicate a sticky valve that's due for replacement.
Most cars will still be covered under the original three-year manufacturer's warranty. Upon it expiring, a third-party warranty is worth mulling over. The BMW-approved Mondial Scheme, available for any car with a full BMW history and under 60K miles is recommended by many. The most risk averse can opt for the full coverage at £100 a month, but it can be tweaked to cover specific parts. Alternatively, Kevin suggests putting a few thousand pounds aside to account for a rainy day.
Transmission
The eight-speed ZF 'box is a benchmark in contemporary automatic transmissions and offers little cause for concern. A small proportion of owners have raised issues when selecting first and reverse, sensing a jolt, courtesy of a faulty mechatronic valve body, but it's not often you should meet this problem.
> BMW 335d M Sport Touring review
Should you do decide to ramp up the power with a remap, ponder a Quaife limited-slip differential conversion for the 335d XDrive to rein in the new found horses (£1890 fitted).
Suspension, steering, and brakes
There's nothing major to be aware of here, just keep your wits about you for any odd knocks and creaks on the test drive as you would on any other car. A sportier suspension setup is offered by Birds to upgrade either the passive or active setup (around £1800 fitted, plus £200 if the car has adaptive dampers). Before all else, Kevin suggests swapping out the runflat rubber for a set of Continental SportContact 6s.
Body, interior, and electrics
With the oldest cars still hardly at pensionable age rust should be no issue, but be sure to check for indicators of crash related repairs, including poorly aligned panel gaps, mismatched colours between panels, overspray, etc. As a modern car it's jam-packed with all sorts of gizmos so have a play and make sure they function to propose — even more meticulously if the car is out of warranty!
Prices
Parts
Prices from elmscambridgebmw.co.uk. Tyre price from blackcircles.com. All prices include VAT but exclude fitting charges and are correct at the time of publishing.
Tyres (each)
£156.11 front, £138.97 rear
Front pads (set)
£141.92
Front discs (pair)
Damper (passive/adaptive)
£152.16/£342.36
Oil filter
£21.10
Air filter
£60.60
Servicing
Prices from elmscambridgebmw.co.uk including VAT.
| | |
| --- | --- |
| Small service | £326.76 |
| Major service | £492.87 |
| Brake fluid change | £90.10 |