Road trip hints and tips: advice your post-brexit driving holiday
This is your guide to planning your perfect road trip, including the new EU rules for driving abroad
Driving abroad on the continent is one of the great perks of living in the UK, and while complexities ​around Brexit and our new relationship with the EU might seem to complicate matters, the rules around continental driving holidays haven't markedly changed.
That first trip abroad in 2021 will require a few new documents and pieces of paperwork to be organised though, but once these are sorted, and Covid-19 circumstances allow, there's little to stop you making the most of all Europe has to offer.
Below we deliver our top tips for a great road trip experience, whether it's a single day's driving close to home or a meticulously planned driving holiday taking in hundreds of miles. 
We'll also look at ways to make the most of your budget, tips for effective route planning and the important stuff you need to take with you. Then there are considerations like the weather, local road rules and, most importantly, how to make sure that you get the most enjoyment possible out of your time behind the wheel. 
What's changed post-Brexit?
Ostensibly not all that much. All plastic UK-licences are still valid in all EU and EEA countries, with the exception of paper licences, or licences issued in Guernsey, Gibraltar, Jersey or the Isle of Man. In this case, drivers will need to apply for an International Driving Permit, or IDP, which can be obtained over the counter at the Post Office for £5.50.
When it comes to insurance, all drivers will need to obtain a 'green card' alongside the usual certificate of insurance from your insurer, which will act as proof of European coverage. This green card should be applied for with plenty of time before your departure to prevent delays on their side in sending through the correct paperwork. This also only confirms basic third-party coverage for compliance though, and doesn't detail your specific level of coverage. It is also important to check with the motoring authorities of the places you plan on visiting to see if they have any further requirements beyond these broad-EU regulations, as these may differ from country to country.
Finally, it is now a requirement to have a GB sticker affixed to your car unless your specific licence plate has either the GB logo placed on its own or alongside the Union Jack. All EU licence plates (ones with GB written within an EU flag) will now require a separate GB sticker. This applies to all EU nations except Spain, Malta and Cyprus, where a GB sticker is required regardless of your numberplate.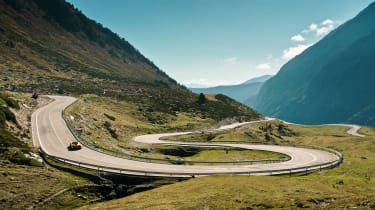 Budget
Travelling around the UK is relatively simple, but despite the recent dip in fuel prices the cost of travel can vary significantly based on what you pay at the pumps alone. Motorway service stations make things convenient but are typically several (and frequently tens of) pence per litre more expensive than those just a few miles further away.
Fill up locally before you travel and then plan somewhere just off your main route to stop. Chances are, you'll be able to find better food and scenery away from the motorways too, which makes taking a break all the more pleasant.
If you venture out to the continent, that can get even more expensive. Motorways in France, Spain and Portugal all have tolls and you might find that a different (often more interesting) route can save you money for not much extra time. If you are travelling on toll roads, particularly in a right-hand-drive car, consider getting an electronic tag (emovis-tag.co.uk) that allows you to drive down dedicated lanes at the toll booths without having to stop.
In Norway you should be automatically invoiced (or the owner of the car will be), but it's still worth checking out autopass.no before you go. In Switzerland, Austria and Slovenia you will need a vignette – a sticker for your windscreen – to drive on the motorways. The Swiss one is 40 CHF for the year, while Austria and Slovenia sell cheaper vignettes for shorter time periods. These can usually be purchased at the border or in motorway service areas.
Tunnels also need to be considered, as the Mont Blanc and Fréjus tunnels cost over €40 for a single trip through. Finally, there may be tolls on some mountain passes. Austria in particular charges for driving on all its most spectacular roads.
Planning
This ties into the practical concerns above. Straight-lining your trip on motorways is the fast and efficient way of getting from place to place, but road trips are as much about the journey as the destination, so if you've got the time to spare it pays to do a little research beforehand and perhaps divert onto more scenic routes here and there.
Sometimes you won't have a choice, with only a handful of major roads bisecting places like Wales or Scotland, and in those instances a bit of research beforehand will ensure you can find roads that are both fun and practical – nothing spoils a road trip like your satnav directing you down some single-track lane that forces you to play chicken with the local landowner's tractor.
Google Maps is a wonderful tool for plotting routes, and a day spent poring over this (or an old-fashioned map) is rarely wasted. Instagram can be great for inspiration too and can help fill in the blanks for places where Google Street View isn't available – not often a problem in the UK, but countries like Germany have no Street View data so other resources become all the more important.
By all means tick off the famous roads, but don't forget to look at what else is in the area as well: the Stelvio, for example, has some fantastic roads nearby that are much better for actually driving than the famous narrow switchbacks.
Paperwork & essentials
This is less of a factor in the UK than it is overseas, but wherever you're travelling you should ensure you have all the correct documents. Your driving licence and proof of insurance are the two essential documents (previously an MOT certificate would have been too, but this is now easier to corroborate online), but we'd also recommend bringing along several items too for both comfort and safety.
Organisations like the AA and RAC advise long lists of items to bring along but a manageable list that covers the basics should include basic snacks and water, a high-visibility vest, a warning triangle, small first-aid and tool kits, a torch, a tyre pressure gauge (most modern cars should have an inflation kit in the boot), and a paper map as a backup to your satnav and smartphone. The list grows a bit in winter, but that's a subject for another day.
If you're heading abroad, research in advance what paperwork you need to take with you to prove ownership, insurance, etc, then be sure to put it in the car. In some cases this will involve original documents, so remember to take them out of the car with you each evening that you're away. Be prepared for it to take some time to cross borders outside the EU and, however frustrating it may get, always be polite. 
Weather
We all know how changeable UK weather can be, but it's rarely dangerous provided your car is in good health, so check your tyres have sensible tread depth and good pressure and that your car's vital fluids are all appropriately topped-up before you travel. Given the possibility for summer rain showers, good lights and wipers help too.
If you're aiming for the Alps or Pyrenees, it's surprising how long winter can last in the mountains. From October to April you need to be prepared for snow, ice and potential road closures. Winter tyres are not only advisable, but often mandatory, either across the whole country as in Germany, Sweden and Austria, or in specific regions as happens in France and Spain: check in advance. 
Also surprising is what remains open in winter months. The roads above Monaco are often easily passable for example, while certain roads up to ski resorts are kept in excellent condition. Alternatively, you could head for somewhere such as Andalucía in Spain, for some sun-soaked winter driving.
And finally… use your time wisely
Get up early. You may be on holiday and probably want to make the most of a nice hotel bed, but to experience beautiful roads at their very best nothing beats driving them early on a summer's morning when no one else is around: having the roads to yourself feels like a huge privilege, though you will have to keep a keen eye out for sleepy wildlife unaccustomed to early risers. And not only will you avoid other motorised traffic, you should also be ahead of the cyclists who are likely to be in the area for the same reasons as you. You can then have a long, lazy lunch while everyone else clogs up the hairpins. 
Also on the timekeeping front, try to build some flexibility into your schedule. Despite all your careful advance planning, you're likely to spot other appealing roads that leave you wondering 'where does that go?' It's nice to have the freedom to find out. Alternatively you might just want to drive a good piece of road twice. As you've travelled all that way, it's a shame to rush these things.