When did Alfa Romeo last build a really great car, something that set standards and shamed the competition? It may have given us some inspired vehicles over the last few decades – and plenty of sheds too if truth be told – but none has been so effortlessly superior in its class as the Alfasud.
The great thing about Alfa's first front-wheel-drive car was the breadth of its ambition. Previewed at the Turin motor show in 1971, this was a new strain of Alfa, designed from scratch using all-new parts and intended for a mass audience of family motorists.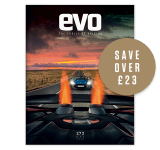 Subscribe to evo magazine
Subscribe today to have every issue of evo delivered straight to you. You'll SAVE 39% on the shop price, and get evo for its original cover price for a whole year!
Alfa Romeo had long nurtured small-car ambitions and it hoped that the 'Sud would elevate the firm to the first division of volume car makers. The new model was priced to tempt Ford and Fiat buyers away from their Escorts and 128s and was to be produced in true volume in a new factory near Naples, providing jobs in a traditionally poor and rural part of southern Italy ('sud' is Italian for south). It sounded a noble endeavour but the social engineering of a government-sponsored car factory hundreds of miles away from established manufacturing bases in the north of the country had certain built-in problems…
When production got underway in 1972, the 'Sud made Britain's early-'70s contribution to the world of family cars – the Allegro – look truly shameful. Technical interest centred around the Alfasud's engine. Its squat boxer architecture meant a low centre of gravity, and by building in a low rate of roll and very little offset or castor in the MacPherson strut front suspension, the handling was truly revelatory, refreshingly neutral with light, precise steering (Alfa's first rack and pinion). At the rear, a clever beam axle was located on a Watts linkage that helped it double as a giant anti-roll bar, adding to the feeling that the 'Sud was endlessly chuckable. Many of the car's early buyers had never experienced responsiveness like it.
The first four-speed, 1186cc Alfasuds were willing rather than fast, and there was more grip than the engine's 62bhp could ever hope to exploit, but away from straight roads it still took a genuinely quick car to catch a 'Sud. The single-overhead-cam-per-bank flat-four engine, slung well down ahead of the front wheels, would spin freely to 7000rpm, but it was also quiet and remote. The ability to cruise at 90mph on less than 1200cc was testament to the slippery profile of the chunky Italdesign body. One of Giorgetto Giugiaro's first big assignments as a freelance stylist, it was simple and elegant in its earliest form, yet curiously it had a boot rather than the hatchback its shape suggested.
An awkward driving position and slightly austere interior trim seemed a small price to pay for the handling brilliance. What buyers were less forgiving of was the car's now legendary corrosion. The Alfasud became a kind of poster boy for the rust problems that seemed to be endemic across the Italian motor industry in the 1970s due to a combination of low-quality reclaimed steel and poor storage of completed bodyshells. But even without the rust the Alfasud would have suffered problems. Car making and the disciplines of working in a factory environment were not part of the culture of the Neapolitan peasant farmers who assembled these cars and they had a relaxed attitude to build quality, particularly if relations with the management were poor, which they often were.
As the Alfasud evolved, there was plenty of meat in the flat-four for more capacity (1286, 1350 and finally 1490cc) and the inevitable five doors and five speeds made it a more useful car.  A quick TI version finally had the power to match the chassis but at the cost of some ugly spoilers.
Production of the Alfasud lasted until 1983, when it was replaced by the uninspired but still boxer-powered 33. The Alfasud had sold healthily (567,093 were made, plus 156,000 TIs) rather than becoming the overwhelming triumph the company had dreamed of, but it succeeded in another way – by making lifelong Alfa fans out of a whole generation of drivers.