Alfa Romeo Giulietta Sprint hits the UK: pricing and details
New Giulietta trim level celebrates 60 years since the first Giulietta Sprint in 1954
Alfa Romeo has launched a new Sprint trim level for its Giulietta hatchback, celebrating 60 years since the original Alfa Romeo Giulietta Sprint hit the streets.
Both Giulietta and Sprint badges are hugely significant in Alfa Romeo's history. The original car, launched in 1954, was a small coupe initially powered by a four-cylinder, twin-cam 1.3-litre engine.
While not particularly fast by modern standards (that four-pot developed 80bhp) it still offered levels of performance, roadholding and quality that few other marques could offer at the time, along with styling appropriate to a manufacturer that had previously been better-known for expensive, low-volume vehicles and racing cars.
A front-engined, rear-drive layout gave the Sprint sporty handling and formed the basis of Berlina saloons, Spiders, Sprint Speciale race cars and Zagato conversions.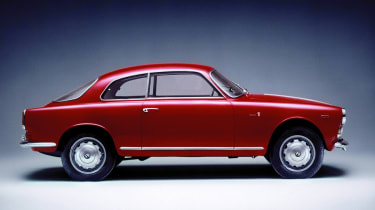 The modern Giulietta Sprint is a little less exciting, but maintains the small-engined ethos with a 148bhp version of Alfa's 1.4 MutliAir turbocharged petrol engine.
The unit also develops 184lb ft of torque, sprints (no pun intended) to 62mph in 8.2sec and hits 130mph flat out, while combined economy of 49.6mpg is significantly better than owners of the original Giulietta Sprint would have seen.
17in five-hole alloys, another Alfa staple, are standard equipment. 'Sprint' logos can be found on the front wings and embroidered in the headrests, while the seats themselves are wrapped in cloth and Alcantara. Other Sprint features include a leather-wrapped, red-stitched steering wheel, carbon-effect door panel and dashboard inserts, exterior side skirts and tinted windows.
The Giulietta Sprint goes on sale in early 2015, priced from £20,490. Surprisingly good value, when the Giulietta Sprint's 1954 price of £1250 is equivalent to around £30,000 in 2014…