Alpina D3
A stay in Gatwick's car park resulted in a rear puncture on the D3, and with no spare that necessitated use of tyre foam and crossed fingers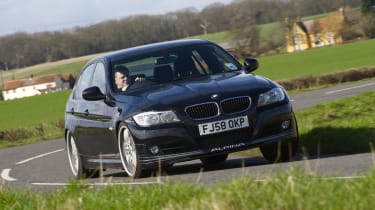 It had been a long day, and once I'd remembered where I'd left the D3 in Gatwick's South Terminal car park I was ready to relax into the 125-mile cruise home. What I really didn't need was for the tyre pressure warning light to bong into life shortly after I set off, but bong it did, and the squidgy response to my next steering input confirmed that this was no false alarm. The hard shoulder beckoned.
It turned out a screw had embedded itself into the edge of the right-rear so, as the D3 wears regular Michelin Pilot Sports and carries no spare, it was out with the foam and compressor pack. Five minutes later I was back on my way. Who needs run-flats?
A few days later, with a new tyre fitted, I headed over to the Bedford Autodrome to video Barker and Catchpole setting a lap time in the Caparo for last month's 'How fast?' feature. As the track was still damp in places, I was sent out in the D3 to try and create a dry line. In the dry corners it would understeer a little, but on the wet bits it would slide and drift beautifully, so I kept going round until the fuel ran out.
Running Costs
| | |
| --- | --- |
| Date acquired | January 2009 |
| Total mileage | 5603 |
| Costs this month | £160 (tyre) |
| Mileage this month | 1785 |
| MPG this month | 39.8 |