Ask Goodwin - What is your favourite car wheelarch of all time?
Goodwin says you need to go retro for the real works of art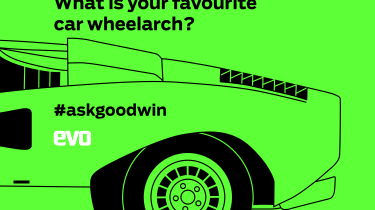 What is your favourite car wheelarch of all time? Mine is the Jaguar XJC's rear arches - Jeremey Townsend, Bristol
An interesting choice Jeremy. Harry Metcalfe would approve as he owns an XJC. At least I think he does as I've rather lost track of his recent purchases. Let's have a think. Certainly I can't think of any modern or current cars that have particularly sexy or outstanding wheelarches.
I presume, since you don't say otherwise, front as well as rear arches are eligible? Anyway, look back twenty years or more ago and there are some real works of art. I remember being hugely impressed by the Ur-Quattro's blister arches. The work of Brit Martin Smith if I remember correctly. Vauxhall has the same idea on the Mk1 Nova which when you think about it was a quite tidy design itself.
The front wheelarches of a Porsche 930 are impressive but those on the 1974 3.0-litre RSR are even more dramatic. A more humble Porsche, the 944 Carrera GT, had excellent rear arches that employed the extension technique. The De Tomaso Pantera in Gp5 spec had cool rear arches but then that might be cheating because it was essentially a racing version of the Pantera.
But we're getting close to home here because up the road from De Tomaso in Modena is Sant'Agata and Lamborghini. There was a only ever going to be one answer to this question and that's the original LP400 Countach. The work of the legendary Marcello Gandini.
One day on my walk to school in Woking in the mid '70s I saw a Countach parked in someone's driveway. I thought it was an extension of the space programme but I remember in particular being very impressed by the slash of rear wheelarch. Most of the cars I've already mentioned have wheelarches blistered or sculptured to cover (legally or aesthetically) wide rubber. The Countach's however, were dramatic swooshes from Ghandini's pen.
Inevitably, when you send me images of your favourite arches via Twitter (which I'd like you to do) my memory will be jogged and I'll come up with other favourites. I doubt my mind will be changed about the Countach though.
Ask Goodwin is a new weekly column on evo.co.uk by Colin Goodwin, one of the UK's most popular motoring journalists – and one of the early contributors to evo magazine. 
You'd like Colin – he drove an amphibious vehicle across the English channel (it caught fire half way) and he held the Guinness World Record for the highest speed in reverse (104 mph in a Light Car Company Rocket). More recently he drove from England to the Geneva motor show… in a Caterham 160.
Oh, and when he visits the evo office he does so in a plane that he built in his shed…
Check back every Wednesday lunchtime for a new column, and get involved with #askgoodwin either at @askgoodwin (Colin's Twitter) or @evomagazine. 
Make sure to get involved in the Ask Goodwin debate on our Facebook page here. You can also put your vote in via the poll system found on the evo.co.uk homepage