Ask Goodwin - Are today's mad classic car prices here to stay?
Is a decent classic 911 ever going to be affordable?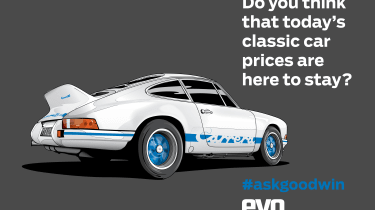 Do you think that today's mad classic car prices are here to stay? Andrew Collins, Nice, France
I hope not because escalating values spoil it for real enthusiasts. Any decent classic 911 is now out of reach for most of us and the values of '73 RSs are now ridiculous with half a million quid being talked about and even more annoyingly, Dickie Meaden is sitting on a fortune with his 964 RS. And this a man who used to make my tea for me when he was a pup. 
I'm a million miles from being a financial expert and I've lost money on every vehicle I've ever owned, but it wouldn't surprise me if there was one day a wobble in values. If interest rates were to rise a lot of people who have no strong love cars but a big passion for making money, would take their money out of motors and stick it somewhere more profitable.
Even the truly exotic machinery like Ferrari GTOs could to take a dump because all it takes is for one to sell at auction for $20 million instead of the more usual $30m and the pyramid starts to topple. It's all about confidence. Even more so 911 RSs because they were actually built in relatively large numbers, as were F40s.
Even classic bike values have gone barmy, with bikes like Vincent Rapides now going for six figures and Brough Superiors for even crazier money. The thing about cars is that new people with driving licences are arriving all the time but the numbers of young people who are getting bike licences has fallen off a cliff. What happens to values if there's no one around who can actually ride bikes?
So to sum up, I don't know but I wouldn't be surprised if one day reality returns.
Ask Goodwin is a weekly column on evo.co.uk by Colin Goodwin, one of the UK's most popular motoring journalists – and one of the early contributors to evo magazine. 
You'd like Colin – he drove an amphibious vehicle across the English channel (it caught fire half way) and he held the Guinness World Record for the highest speed in reverse (104 mph in a Light Car Company Rocket). More recently he drove from England to the Geneva motor show… in a Caterham 160.
Oh, and when he visits the evo office he does so in a plane that he built in his shed…
Check back every Wednesday lunchtime for a new column, and get involved with #askgoodwin either at @askgoodwin (Colin's Twitter) or @evomagazine. 
Make sure to get involved in the Ask Goodwin debate on our Facebook page here. You can also put your vote in via the poll system found on the evo.co.uk homepage