Ask Goodwin - What's the most disappointing car that you've ever driven?
A controversial one this week, expect to be surprised by Colin's answer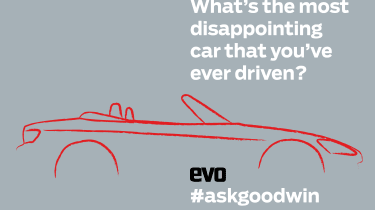 What's the most disappointing car that you've ever driven? Sam Brown, Edinburg
That's a good one because it's different to the more usual 'What's the worst car you've ever driven?' (Which happens to be a Mahindra Jeep). There aren't that many candidates actually because when you drive a Toyota Corolla you are expecting to be bored rigid by the experience and you are. No disappointment there then.
My first thought was the Ferrari 348GTB which is probably the most flawed car that Ferrari has built in the modern era. Possibly the only flawed car. The thing is though, it was the first Ferrari that I ever drove. I can remember it clearly. The key fob in my hand with the famous logo, walking up to the underground car park at the top of Earls Court road near the Car magazine office, and then sitting in the car for about 20 minutes just taking in the fact that I was about to drive a Ferrari: a dream that a few years earlier I wouldn't have believed would ever come true. After the excitement died away I did eventually suss out that this car had its vices and that the job could have been done better by Maranello.
My choice is going to be controversial. It's the Honda S2000. When that car was announced I though the greatest sports car ever made was about to land. Rear-wheel drive, Honda's build quality and one of its magical engines up front; one with 240bhp. What could go wrong?
We did a group test between the S2000 and a couple of rivals (can't remember which now) and I first got into the Honda at Leicester Forest East services. Within ten feet I knew that something was wrong. I was sitting too high and the car just didn't feel right. In later drives I never trusted the S2000's chassis and once nearly had a big accident in one on a wet Belgium autoroute that only Steve Sutcliffe's fabulous car control saved.
The Honda S2000 isn't a bad car, I simply made the mistake of thinking that it was going to be brilliant.
Ask Goodwin is a weekly column on evo.co.uk by Colin Goodwin, one of the UK's most popular motoring journalists – and one of the early contributors to evo magazine. 
You'd like Colin – he drove an amphibious vehicle across the English channel (it caught fire half way) and he held the Guinness World Record for the highest speed in reverse (104 mph in a Light Car Company Rocket). More recently he drove from England to the Geneva motor show… in a Caterham 160.
Oh, and when he visits the evo office he does so in a plane that he built in his shed…
Check back every Wednesday lunchtime for a new column, and get involved with #askgoodwin either at @askgoodwin (Colin's Twitter) or @evomagazine. 
Make sure to get involved in the Ask Goodwin debate on our Facebook page here. You can also put your vote in via the poll system found on the evo.co.uk homepage