Ask Goodwin - What do you think of flying cars?
He's driven an amphibious car across the English Channel. But would Goodwin pilot a flying car?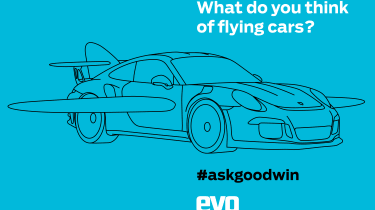 As a petrolhead and flier I was surprised to see you slagging off the Terrafugia flying car on Twitter. Tom Steward, Nice, France 
I was referring to Terrafugia's TF-X concept car/plane but my thoughts on flying cars are applicable to the company's Transition, which has been test flying for a couple of years.
Where do I start? Well, for a kick off a huge number of people are going to be killed flying the thing, especially in this country. Terrafugia says that its machine is safe because if the weather is iffy you can drive to where you want to go. That's fine, but there will be people who having spent a packet on what is not a particularly good car, will take a punt on the weather and then come unstuck. 
Aeroplanes are fragile things because they are light. If someone bumps into your Transition in the car park, even with a shopping trolley, you're going to want it properly inspected before you fly it. And since the Transition is composite it's very difficult to tell whether the structure of the material itself is damaged. 
I've sampled a few amphibious cars in my time and generally speaking they're pretty poor boats and even worse cars. I can't imagine the flying car being any different. Terrafugia is talking about a price of $279,000 for the Transition which is about £178,000 at the current exchange rate. Plenty enough to buy a very nice aeroplane and a very good car.
Yes, it's a nuisance having to drive to an airfield and then find transport the other end (a Brompton or taxi) but last weekend I drove to the airfield where my plane lives in a 200mph 911 GT3 RS, got in the aeroplane and flew at 200mph to Alderney for lunch. Total value of the GT3 RS (list price, mind) and my Van's RV-7? About £180,000 in fact. I'd rather have the best of both worlds rather than the worst of both in one package.
Ask Goodwin is a weekly column on evo.co.uk by Colin Goodwin, one of the UK's most popular motoring journalists – and one of the early contributors to evo magazine. 
You'd like Colin – he drove an amphibious vehicle across the English channel (it caught fire half way) and he held the Guinness World Record for the highest speed in reverse (104 mph in a Light Car Company Rocket). More recently he drove from England to the Geneva motor show… in a Caterham 160.
Oh, and when he visits the evo office he does so in a plane that he built in his shed…
Check back every Wednesday lunchtime for a new column, and get involved with #askgoodwin either at @askgoodwin (Colin's Twitter) or @evomagazine. 
Make sure to get involved in the Ask Goodwin debate on our Facebook page here. You can also put your vote in via the poll system found on the evo.co.uk homepage