Mark Higgins is a man who might just be more Bond than Bond himself. Daniel Craig definitely has the swagger, but when it comes down to it, Higgins does the dirty work.
Fresh from blasting Aston Martin DB10s through the Vatican City, Higgins is sitting opposite me sporting the ultimate Bond outfit. Tom Ford suit across his back, Omega watch on his wrist, he certainly looks the part. Then I lean back and spot a pair of Alpinestars on his feet. I know this is going to be an interesting chat.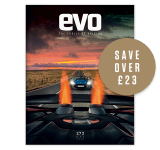 Subscribe to evo magazine
Subscribe today to have every issue of evo delivered straight to you. You'll SAVE 39% on the shop price, and get evo for its original cover price for a whole year!
Has he ever managed to scare Daniel Craig? 'No, not really,' says Higgins. 'He's James Bond. How could I scare James Bond?' OK, scrap that. Has he ever managed to scare himself? 'Yes,' he answers, 'always.'
Unsurprising really when you take a look at Higgins' driving history. A rally driver for 25 years, he has dabbled in stunt work in recent times, finally finding his place as Bond following the quarry chase scene in Quantum of Solace.
Tonight, Higgins will be driving along the banks of the river Tiber in Rome in one of the DB10s created for Spectre – while squirting flames out the back of the car at a Jaguar C-X75 giving chase. Just another day at the office, then.
The Spectre set is quite unlike anything we have ever seen before. A fleet of DB10s and C-X75s are being prepped, while a team of divers bob up and down in the river. A camera helicopter hovers above.
'We've been on this now for three months,' says Higgins. 'We did rehearsals back in December and the main Rome car chase started three weeks ago. This week we've had a wall ride, we've been jumping down steps, drifting around the streets and gone through the Vatican at over 100mph, which is pretty awesome. I don't think anybody has ever done that before and I don't think it'll ever be done again.'
The streets of Rome brought their own unique challenge, as Higgins explains. 'It's been very difficult here because we couldn't practice on cobbled roads anywhere else. There's just nowhere to simulate these kinds of roads. We can practice at Millbrook and Mira in the UK, but until you actually get here it's a very different thing altogether and for the most part we've never even seen the road properly until it's closed off.'
Higgins' WRC history makes itself apparent when I ask him to describe exactly how the Vatican sequence took place. Rome simply appears to be a rally stage to him as he reels off an explanation as if it were a set of pace notes. 'We probably went through there ten times,' he says. 'You've got the lead up a straight road followed by a nice square left and a long right-hander. Because of the cobbles outside the Vatican, the car reacts very differently and as it's getting later in the evening, the moisture in the air starts [to take effect] as well, so it becomes quite slippery. Often we're jumping from one car to another, so just getting a bit of heat into the tyres makes for a massive difference.
'For us it was amazing because everything was locked off. We were probably going through the square at 100mph sideways, which was quite nice. We were told: "Whatever you do, just don't hit the Vatican."'
The driving sequences in Spectre required a set of very special DB10s and C-X75s to be produced. Eight in total made their way to Rome, ranging from cars specifically set up for jumps and drifting, to the clever 'pod cars'. These represent a particular challenge to Higgins. Built so actors can do their dialogue while driving, they have a cage on the roof that the stunt driver straps himself into and controls the vehicle from.
'The pod is very difficult,' says Higgins. 'The problem is you haven't got direct steering feel – instead it's done through hydraulic powerboat systems, so it never centralises. You're always correcting it. It's not like driving a car at all. We much prefer driving the real cars.
'You get used to it but obviously your centre of gravity is very high, so you feel like you're going to roll over. It's not until you've actually chucked it around a few times that you get confident in it. It's very, very different up there.'
He might claim he scares himself all the time, but chatting with Higgins is enough to convince you that really he is a man with no fear. Example? 'I'd love to drive a Formula 1 car upside down,' he says. 'I think that's got to be done one day. I found a tunnel when we were in Austria shooting for Spectre. It's got a flat top and if you got the transition right I'm pretty sure that could happen.'
But going back to his current job, just how Bond is Higgins? He might have the suit and he most definitely can do the driving, but does he have the gadgets? I ask him who sets off the DB10's flamethrower and instantly realise he has fulfilled every Bond fan's dream.
'I've got a few buttons to press,' he says with a grin. 'And, yes, it's me who activates the flamethrower.' Not only does he get to drive the Aston, but he plays with the gadgets as well…
Later that night we witness Higgins in action as a DB10 and C-X75 scream their way down the edge of the Tiber, their howling V8s ringing between its stone-clad banks. There's a brief moment, while the 300-strong set falls silent and the cameras roll, that both cars appear to be chasing each other for real. For that moment and that moment alone, Mark Higgins is 007.