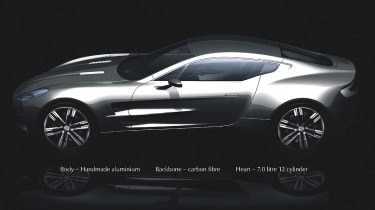 Aston Martin has released a snapshot of the stunning new One-77, its most secret and exciting flagship project. The exclusive stunner - with an expected price comparable or higher than Bugatti's Veyron - will be based on a sophisticated carbonfibre chassis with a lightweight hand-crafted aluminium body.
Power is provided by a 7-litre V12 engine, so performance will be predictably brisk. Production will be limited to a run of 77.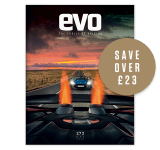 Subscribe to evo magazine
Subscribe today to have every issue of evo delivered straight to you. You'll SAVE 39% on the shop price, and get evo for its original cover price for a whole year!
Let us know what you think. Email your views to us here and we'll produce a selection of the best (and worst!) comments.
More info as we get it.
You say:
Was a bit slow to take a look that picture of the new Aston, as I was busy playing in my Veyron on the Autobahns over here in Germany, well until I woke up that is... Nice car, but never in my lifetime will it be a million pounds nice though. It just won't cut it dynamically, and you can only get so far on looks alone. All the fastest cars share the same thing in that they look like their cracking the double-ton standing still. All Astons share the same thing, and that is that they should be on show as a work of art. They are often a let down when the artwork starts rolling along a road. Scott Cookson
A masterpiece, as Astons always are. However, I get the impression the designers at Gaydon have been tipped off by their Porsche counterparts, of how to get away with being lazy. The fifty odd grand premium for the dbs over the db9 was a worry, but a million quid for the younger sister? Having said that, as with the 911 design, if its not broken, don't fix it! James Popsys
Stunning looking car no question, sublime in the typical Aston manner. I feel More akin to the coach built cars of yesteryear than the street legal racers of today. Conceptually this car reminds me more of the Bugatti type 57 than the Veryron. I belive Aston will market it more as the ultimate in personal transportation, rather than focus on performance goals.
My only real gripe with the car, and perhaps Aston in general, is that every model is essentially the same thing. Slightly bigger, slightly faster, and "slightly" more expensive. I do understand "that's what they do" and it seems to be working for them, but for a million I'd prefer something a tad more adventurous. Kelton Graham
It's certainly a looker, so hats off to AM. But costing £1m? Who said there was a credit squeeze?Dave Greg
This is one sexy thing, Serena Williams on wheels!Cameron Gill
I can't help but see a little too many 'Corvette' influences in it's design, but I'll reserve judgment until a production model is unvieled. The DB9 & DBS are without a doubt the most beautiful modern production cars that exist.
For a Bugatti Veyron price, it should do what a Veyron can't do. Stomp on a 997 GT2 on any given race track. I don't need 253mph. Just build it like the McLaren F1 - with no compromises to materials, craftmanship & design.
Note to Aston Martin, and I am sincere in this statement: Give it 770 bhp minimum, a 7-speed DSG-type transmission, make it respectably lightweight, and shoot for a 7:00 minute flat 'Ring time. You'll have my money. I just gained a little faith in humanity. Thak you for that.
John Richardson The new Aston is gorgeous. There's no other way to say it. It just is. So many number 7's in there though, I wonder if Q will be doing any of the development work? On a more serious note, it's nice to see the new owners aren't afraid to spend money and take Aston Martin in new directions.Jordan McGroganNew Super Aston - Double WOW!! Should be a dream...But pricier than a Bugatti? Why?...If it´s a «simple» 7-litre V12? And the Bugatti is a xpto 28-cylinder, 4wd and a dozen turbos?Osvaldo
Extra Info