The Aston Martin DBS. It's not exactly slow, yet Edo Competition has seen fit to eke some extra speed from it. Not satisfied with the 510bhp V12 currently hiding under that long bonnet, Edo's version of James Bond's motor pumps out 542bhp. Torque also rises by 22lb ft, to 442lb ft.  The performance hike is thanks to new air filters, high-flow catalytic converters and a remote-controlled exhaust system with butterfly valves. The valves usually open when a certain level of backpressure is created – but a dash-mounted button performs the same task, should you find yourself in a long tunnel somewhere…  The net result is a car that will do 199mph, and hit 62mph in 4.1 seconds. Fast, but not earth-shatteringly rapid considering the standard car does 191mph and 4.3 seconds to 62mph.  Other changes include the 21in wheels and a sport suspension system. Oh, and some stonking brakes. Six-pot calipers clamp onto gargantuan 405mm steel slabs up front, while 380mm wide discs feel the six-piston pinch at the rear.  This car is meant as a demonstrator, showing what Edo competition is capable of given the raw materials. However, if you've got the cash, the company can do just about anything to your Aston.
Follow evo on Twitter or Facebook for car news and views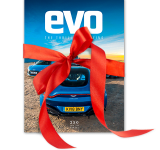 Subscribe to evo magazine
If you're passionate about the world's greatest performance cars, experience the thrill of driving with evo magazine. Try your first 5 issues for £5.