A-Z Supercars: Aston Martin V8 Vantage Zagato
In the mid-1980s, Italian design house Zagato put its unique stamp on the V8 Vantage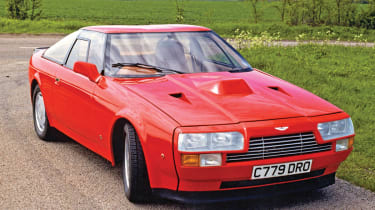 Italian design house Zagato definitely went through a 'less is more' period in the '80s. You could see it in Lancia's Integrale-based Hyena, and the same sense of sucked-in, condensed, hard-bodied minimalism is evident in its 1986 take on the V8 Vantage for long-time client Aston Martin. Pretty it wasn't (and with the sublime 1960s DB4 GT Zagato in the back catalogue, that was a disappointment to some) but it still looks remarkably modern today, a design devoid of the grand stylistic gestures that can date so quickly.
In some respects, the project reprised the lightweight DB4 GT Zagato. Like its classic counterpart, the modern V8 Vantage Zagato was reduced in overall size and clothed with an aluminum body from Italy. As with the DB4, the chassis was shortened and the rear seats removed, the result being a considerably more agile and involving device for keen drivers. Fans of the Zagato included Aston enthusiast Rowan Atkinson, who bought the first right-hand drive example and later had it converted into a 482bhp race-car. By the end of the '80s, in the height of the supercar boom, examples were changing hands for as much as £450,000.
In all, 52 examples of the coupe were produced, followed by 37 Volante convertible versions. The Volante made its debut at the 1987 Geneva Auto Show and was offered at an even more limited run of only 25, although a total of 37 were eventually made due to high demand. Styling changes included flip-up front headlight covers and the removal of the coupe's huge bonnet bulge.
So one of the finest Astons in pure driving terms, and one that despite its (at the time) controversial looks has aged rather well. Aston has rekindled its relationship with Zagato in recent years, the latest collaboration being a version of the current V8 Vantage.
SPECIFICATION
Years made 1986-1990 Engine V8, 5340cc Max power 432bhp @ 5000rpm Torque 395lb ft @ 5100rpm0-60 4.9sec Max speed 186mph Price £87,000 (new), £100-150,000 (now)