Aston Martin V12 Zagato double-bubble roof - Art of Speed
We discuss the origins of the iconic double-bubble roof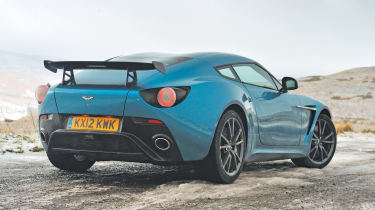 Is there an example of form following function in automotive design that turned out quite as well as the double-bubble roof; in the sense that, if you didn't know the reason for it, you'd have to believe it was the result of pure artistic licence? I seriously doubt it.
That the idea originated from the pen of Ugo Zagato provides some perspective. Zagato founded the coachbuilding business that bears his name in Milan in 1919 and swiftly established a reputation for using light, strong bodywork structures in aluminium, a continuation of the methods he'd acquired over four years at aircraft construction specialist Officine Aeronautiche Pomilio. But perhaps his most significant carry-over was the streamlined look and performance benefits conferred by sound aerodynamic design. By applying this to both road-going and racing aluminium-bodied Alfa Romeos, Ferraris, Fiats, Lancias and Maseratis through the inter-war years, Zagato's name became synonymous with high performance and racing success.
> 600bhp Aston Martin V12 Vantage Zagato R-Reforged nears production
It wasn't until the early 1950s, though, that in the quest for even greater aerodynamic efficiency, Zagato created its most enduring and recognisable design cue: the double-bubble roof. It was a radical concept specifically aimed at extracting an advantage on the racetrack, while the form-follows-function logic was simplicity itself: reducing the roof height and frontal area of a car helps it slice through the air better. But the lower roofline inevitably compromises headroom and comfort for both drivers and passengers, especially if crash helmets are worn.
Zagato's solution was to start with the lower roof and elegantly ease out the space directly above the occupants' heads, thus creating the double-bubble, and the treatment had the added benefit of actually strengthening the thin aluminium roof panel. It worked and it looked great, featuring on a host of Zagato-bodied competition Fiats, various privately commissioned one-off Maseratis and ACs, the gorgeous Alfa Romeo 1900 C Super Sprint Zagato and Lancia Appia GTE Zagato, and even some long-wheelbase Ferrari 250 GTs.
Zagato's long-standing association with Aston Martin has given the double-bubble free expression in more recent times, but perhaps the biggest compliment to Ugo's brilliant idea comes via the Peugeot RCZ, which has made it a common but no less beautiful sight on our roads.