Aston Martin V8 Vantage
Beautiful, rapid, well-built, practical – and yours for a little over 40 grand. Here's everything you need to know to get a good one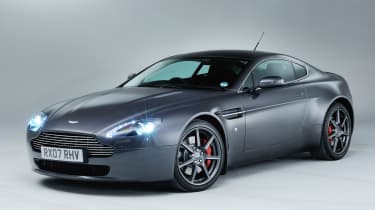 Who hasn't dreamt of owning an Aston Martin? Launched in 2005 as a new entry-level model for the brand, the V8 Vantage was intended to bring that dream just a little bit closer for some of us. Now, four years on, it's got even closer still, with early cars available second-hand at almost half the original £80K asking price.
Built in an immaculate, purpose-designed factory in Warwickshire – where production continues today – the Vantage combines an extruded alloy and composite body with a superb Jaguar-derived 4.3-litre V8 and either a manual or semi-automatic 'Sportshift' six-speed gearbox. The resulting 'baby' Aston is strong, fast and remarkably reliable – the latter fact being borne out by the number of car hire companies that lend them out to 'persons of restricted talent' with few problems.
The V8 Vantage looks as stunning today as it did when it was launched. Understated in a way that other exotics can only dream of, it draws admiring glances from people who would shake their head in disgust at gaudier cars. The standard model's 380bhp V8 is delightfully revvy, with peak power arriving at 7000rpm, although the lack of mid-range torque does mean extra downshifts are required when pressing on.
Slipping into the well sculpted seat you are surrounded by superb design, the dash uncluttered and very elegant. The start-up message – 'power, beauty, soul' – is a bit cheesy, and calling the ignition key an 'Emotion Control Unit' is just plain silly, but once on the move these things are soon forgotten. The Vantage's ride is sharp, but not jarring, giving wonderfully precise control that makes the car thrilling to drive on 'real' roads yet relaxing on long journeys. It's a testament to the car's superb balance of power and handling that so many owners use their Vantage as a daily driver.
But it's very usable as a tourer too. The boot is big enough to take a reasonable amount of luggage for the two occupants, while unlike many other cars in this class it doesn't pretend to have rear seats; instead there is an honest luggage shelf which is ideal for storing nibbles, a camera and papers for a long journey. It's probably worth putting a map there too, as the satnav is not so good – derived from the Volvo system, it is probably the weakest aspect of this otherwise near-perfect car.
The proof of any performance car's pedigree is in racing, and the Vantage enjoyed racing success almost straight out of the box: the N24 racer was basically a road-going Vantage with a roll cage. This car inspired the N400 version of 2007, the N standing for Nürburgring, the 400 referring to its 400bhp. To help complete the competition picture it also boasted the firmer Sports Pack suspension and the later, thicker anti-roll bar.
Prodrive produced a special variant of the Vantage, too, with four upgrade packages available in any combination. The engine tweak gave an extra 45bhp, taking the total to 425, the suspension mods made the car feel more stable and accurate through corners, and there were options that added new wheels and high-downforce aerodynamics.
In 2008 the factory improved the engine further. With detail modifications and a new capacity of 4.7 litres, it brought more mid-range grunt and upped power to 420bhp, while also managing the neat trick of being 13 per cent more economical.
Driving one today
Climbing aboard any Aston Martin has always been an event and a V8 Vantage is no different. The 911 rival still looks fabulous with its near-perfect proportions and tailor-sharp lines. Even the winged arc the door scribes as it sweeps open is pure class. Drop into the seat and you feel low in the car, cocooned by the transmission tunnel and the sweeping dash with its bevelled dials and backwards rev counter. In many ways it looks like a sophisticated TVR inside – and that is meant as compliment!
Prod the starter and the V8 barks into life; once you're on the move it will also bellow gloriously every time you wind the revs above 4000rpm. If we're being picky then the gearshift is not the best and there are times when the chassis doesn't feel completely keyed into the tarmac, but the front-engine/rear-drive layout ensures you're never short of cornering options. Roger Green
Useful contacts www.amoc.org (owners' club) www.astonmartins.com (advice) www.derbymotorservices.com (specialists) www. astonmartin.com (Aston website)