Audi PB18 E-Tron Supercar Concept to debut at Pebble Beach
Previewing Audi's next-generation supercars, the PB18 is an all-electric concept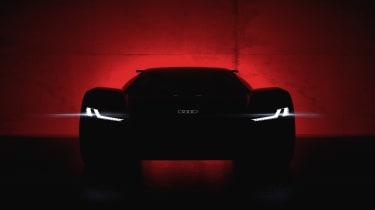 Audi has released a teaser of an upcoming concept car that will be shown off at the 'Quail' during Pebble Beach car week later this year. Called the PB18 Supercar Concept, the name is easy enough to decipher, standing for Pebble Beach and the year it is to be debuted, but the car itself is sure to be a more interesting prospect, foreseeing the design direction of Audi's future performance models.
According to Audi, the PB18 Concept takes design inspiration from the Le Mans-winning R18 e-tron in some of its design solutions, while also acting as a design study for a 'puristic sports car of the future'. From the teaser image, instantly noticeable is the low, blocky shape, definitely closer to that of Audi's LMP1 racer than the current R8.
> Click here for more on the future of electric supercars
The headlights look to share a similar shape to many current Audi models, only with a new, simplified lighting graphic. The illuminated badge also points to a bonnet-mounted position, something that is becoming increasingly common throughout Audi's sports car ranges. The concept was designed at Audi's newest international design studio in California called the Malibu Loft.
Although no specific technical details have been released, Audi has confirmed the model will be all-electric – an increasingly important element for many car companies, and indeed the industry at large, in trying to make electric cars more appealing.
Audi has dabbled in electric supercar territory before, too, building a limited number of all-electric R8 e-tron models back in 2014 based on the current-generation R8. Despite Audi's initial enthusiasm towards the project, less than 100 units reached buyers, each reputedly costing over £600k. Despite this questionable success, the next R8 supercar is also likely to be offered as an electric variant, albeit at a price point more in line with its petrol siblings, building speculation as to whether this concept will preview the future of Audi's supercar.