The e-tron SUV is already on our roads, but Audi has shown its next step in concept form. Yet while you can expect small details to change during the productionisation phase, what you see here is essentially the car that will go on sale in late 2020 – this is no one-off model, but a proper car with off-tool metal panels.
The e-tron GT is based on the same J1 platform that will underpin the Porsche Taycan, and will be built by Audi Sport alongside the R8. Think of it as a lower, sleeker 'Audi A7' type of car, the reduction in height due to the engineering package incorporated within. With the lithium-ion battery pack located in the floor, and no bulky engine up front, the e-tron GT can be designed to be lower. The batteries are arranged in a wave, so the layer is thinnest in the footwell and taller underneath the seat base cushions, maximising interior space.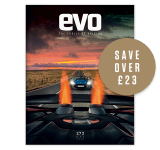 Subscribe to evo magazine
Subscribe today to have every issue of evo delivered straight to you. You'll SAVE 39% on the shop price, and get evo for its original cover price for a whole year!
> New Audi e-tron review – heavyweight electric SUV is fast, but not much fun
It's powered by two synchronous electric motors, one for each axle, thereby making it four-wheel drive, a new type of Quattro if you will. The combined power output is 582bhp, which enables a 0-62mph time of 3.5sec and a top speed limited to 149mph (240km/h). A truer idea of the car's potency can be garnered from the 0-120mph of around 12sec. The car is being developed by Audi Sport, and an engineer told evo that it was 'focusing on the reproducibility of performance' – something high performance electric vehicles have struggled with in the past. With double wishbone suspension, electric torque vectoring, rear-wheel steering and a very low centre of gravity (especially for a roomy four-seater), the GT should handle as well as the Porsche Taycan it's loosely based on.
Another aspect Audi is keen to reinforce is substantial progress in range anxiety: the e-tron GT will have a range of nearly 250 miles from its 90kwh battery pack, the minimum range the firm believes is acceptable to its customers. Moreover, if you can find a charging point compatible with its 800v charging system it's possible to reach 80 per cent charge (200 miles) in around 20 minutes. There will also be a wireless charging setup that works with an inductive pad installed in an owner's garage.
The GT showcases the next evolution of Audi design, including the specific language for its EV models. The familiar Audi grille and face remain, but have been reversed. With clearly no need for a traditional front air intake, the mouth is solid, with black elements visible around it. The GT also features a honeycomb-type effect on the grille, which is set to be a feature of forthcoming RS models.
Audi's head of design, Marc Lichte, calls the GT "The highlight of my career", and has worked hard with his team to subtly make the transition away from a mindset of cars powered by internal combustion engines. The bonnet is plain, as there is no engine in there, while the sills are pronounced, as that's the location of the power source. Naturally, at the rear there is no space, nor a need for an exhaust outlet, although there is a working diffuser and a moveable rear spoiler.
Inside, the e-tron GT uses entirely man-made and some recycled materials, including old fishing nets for the carpet fabric. That may sound ghastly, but evo has sat in the vehicle and it's a comfortable and stylish place to be, and none the worse for its vegan principles. The metal slab of a dashboard is a big step forward from current Audi designs, and forms much more of a span between the two front doors; in fact, the interior and exterior are more closely linked in design than before, a specific aim of the team. Despite the relatively low height of the vehicle, there's still plenty of room for tall adults in both the front and rear seats.
There's no word on pricing yet but expect to see further information and images of the production vehicle testing towards the end of next year.
What's it like to drive?
I'm not going to try and convince you this was a proper drive, because 20 minutes behind a photographer's tracking car driving through LA at 30mph (on the clear bits) is possibly the least relevant test of a car imaginable.
So, away from the bright lights of a motor show stand Audi's e-tron GT looks a million dollars (five-million in fact) kerbside in the dawn sun of a Friday morning in LA. It might be 18 months away from production but it looks ready to the commuters stopping to point an iPhone at it and the Tesla Model X driver who stops and shouts across several lanes of traffic that he wants to buy one now.
Lichte's design for the e-tron GT might look a little conservative for a car that is meant to lead Audi into the future, but customers apparently want a steady evolution rather than a quantum leap when it comes to how their electric cars look. They still need to look like an Audi, which is why the e-tron SUV production car looks very much like a facelifted Q5.
In terms of footprint the e-tron GT straddles Audi'a A5 Sportback and A7 for size when you're stood next to it. Well proportioned, considered, steady like many of Audi's designs. There's no word on if we'll see one with a bulging arches and an RS badge though… (we won't, but the next RS7 will have a 700bhp hybrid powertrain) 
Press the tiny LED light at the bottom of the B-pillar and the door pops open and inside the next generation of Audi interior is as you'd expect it: solid, quality focused and considered rather than revolutionary. Overall this prototype is 95 per cent finished, but the interior is said to be 98 per cent there and is only a production sign off away from completion. 
It feels production ready in terms of ergonomics. You can lower the seat nicely in the cabin, there's plenty of glasshouse to avoid the rakish roof causing any claustrophobia, with a photographer able to move around the rear seat without constantly moaning about space.
From 0-30mph there's a Tron-like soundtrack to the powertrain and that's about it for what I can tell you about how it feels like to drive. With a 30mph speed limit, imposed by both the Audi engineer sat alongside and the LAPD riding along with us, there is little else credible that I can tell you. The re-gen brake set-up did feel good, certainly less grabby and like pushing a concrete slab than many current systems.
With a suspension set-up for the motor show stand rather than Downtown LA it did ride like the multi-link air-suspension that will be fitted to all e-tron GT production models had been replaced with a mix of aggregates and other building materials found in the construction isle of the nearest Home Depo store. Or like an early A4 S Line.
In 11 months we'll be able to tell you how the production car drives.