Audi R8 e-tron Nurburgring lap
Audi's R8 e-tron prototype has lapped the Nurburgring in 8:09 seconds, just five seconds slower than the V8 petrol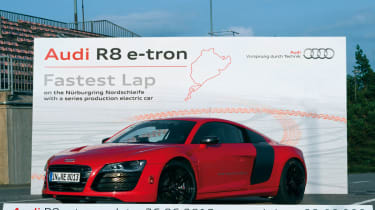 Audi has taken to the Nurburgring to set a lap time in the prototype version of the upcoming R8 e-tron, setting a lap time of 8m 09s with former F1 and current Audi driver Markus Winkelhock at the wheel.
According to Audi, the e-tron that Winkelhock piloted around the 12.9-mile track is identical in every way to the production car which will be launched later this year, although the car's 125mph top speed limiter was removed for the run, giving the R8 a 155mph top speed.
The Audi R8 e-tron can accelerate from 0-62mph in just 4.6 seconds, and is normally limited to 125mph. Winkelhock also lapped the 'Ring with the limiter in place, and still managed an 8m26s time.
Power is generated from a pair of electric motors and a state-of-the-art lithium-ion battery pack, giving the R8 e-tron 280kw (about 375bhp) and 604lb ft.