Audi R8 e-tron 'not dead'
Audi's R-and-D boss Ulrich Hackenberg has confirmed that work has resumed on the all-electric R8 e-tron. Details here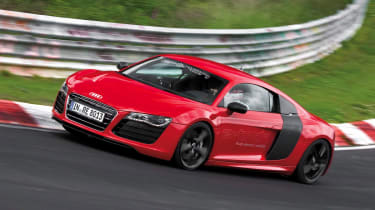 In a radical reversal of its previous decision to can its all-electric sportscar project, Audi's R-and-D boss Ulrich Hackenberg has said the company has resumed work on the R8 e-tron with a view to creating a production version.
The project was cancelled by Audi's former engineering boss Wolfgang Durheimer, who said the project was too expensive and that battery capacity and cost would have to improve by nearly 50 percent to make the car viable. Durheimer left the company shortly afterwards, and now Hackenberg has confirmed that improvements in battery tech – and a desire to show off its credentials as an electric car maker – have seen the project restarted.
'I had a deeper look into the technology,' Hackenberg told journalists at the Detroit motor show, 'the problem was range and that the cost was too high, but we've been working on optimising that.'
Hackenberg says new battery technology means he now believes the eTron is viable.
'I am seriously discussing how we can give life to this car,' he said, 'to use it as a technology carrier for some of the new technologies we are introducing across the range.'