Used Audi RS5 8T (2010 - 2016) - buying guide
Can a naturally aspirated, 444bhp sports coupe possibly be a bad second-hand buy?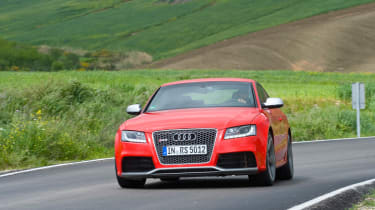 We never quite clicked with the B8 RS5 the way we did with the B7 RS4 that preceded it. In fact we gave it a bit of a panning in evo group tests at the time. But there was always a feeling that it might well turn out to be an appealing ownership proposition in the longer run. It's often the way with fast Audis. And with the second-generation RS5 – and just about everything else these days – having a downsized turbo engine, never underestimate the appeal of a naturally aspirated 4.2-litre V8 under the bonnet. 
Also consider that, with a few choice options, these were near-enough £70,000 cars when new. Now that you can pick up a good one for as little as £25k, that makes them appear conspicuously good value. So, all in all, it's a good time to reappraise the first-gen RS5.
The B8 A5 range, comprising coupe, cabrio and five-door Sportback, was introduced in the summer of 2007 and soon spawned a sporty S5 with, initially, a 349bhp 4.2-litre V8 (then a 328bhp 3-litre supercharged V6 from 2012).
The full-on RS5, however, didn't arrive till spring 2010. Its discreetly enhanced body featured a deep chin spoiler, flared arches, and a rear spoiler that deployed at 75mph. Inside were sports seats in leather and Alcantara (torso-hugging bucket seats were an option) and a high quality feel with aluminum and carbonfibre trimmings. 
The naturally aspirated 4.2-litre FSI (fuel stratified injection) V8 was essentially the magnificent 5.2-litre V10 from the R8 supercar with two cylinders removed. Handbuilt by quattro GmbH with an aluminium crankcase, its 444bhp at 8250rpm meant more than 100bhp per litre, while 317lb ft from 4000 to 6000 told you this was an engine that thrived on revs. Drive went to all four wheels via a seven-speed 'S-tronic' dual-clutch gearbox and a mechanical centre differential that channelled up to 85 per cent of the power to the rear wheels, where an electronic diff did the torque-vectoring.
There was a facelift in late 2011 that sharpened the looks and updated the MMI infotainment but mechanically things stayed the same. We clocked it from 0 to 60mph in 4.3sec, and while top speed was limited to 155mph, if you paid another £1480 Audi would very generously raise the limit to 174mph. The RS5 was properly quick, discreet and desirable. So, what's not to like?
'I bought one' - Daniel Clarke
'I had my RS5 – a pre-facelift car – for two years. My previous car was an S3, but I'd only had it for about a year before I was tempted by the V8. I think it was seeing one on the road and hearing the noise that did it.
'My RS5 had covered about 10,000 miles when I bought it, and I added another 15,000, using it as my everyday car. Overall I really liked it, but I did have a couple of things go wrong. The alternator regulator went, which meant it started misfiring badly. It took the dealer a while to trace the problem – it just so happened that someone in Germany had had the same fault. There was also a fault with the electronic diff, and an oil leak from the rear driveshafts. It had a number of rattles, too; they had to replace one of the door-cards when a clip inside broke.
'It was all covered under the manufacturer warranty, which I had for the first year, and handled very efficiently by Audi Southampton. For the second year I bought a warranty for around £700, and though I didn't have to make a claim, that's something I'd recommend. These can be very expensive cars if things do go wrong: I was told a replacement S-tronic gearbox from Audi is £14,000…
'Day-to-day running costs were reasonable: 18-19mpg was the norm and I replaced the front tyres at about £250 each, but I thought that was OK for two years' ownership. The backs were still the originals, which was good going. And I replaced one set of front pads – about £400 through the dealership.
'I liked the looks, I liked the noise. It was the first car I'd owned with over 400bhp and it was very easy to drive pretty much to its full potential; the grip was just incredible. It was practical too – I got two mountain bikes in it with the seats down, and the rear seats could accommodate adults, though you wouldn't want to be there for too long.
'I eventually part-exchanged it for a new RS4. There's something about these RS Audis…'