It took a while for Audi to finally ask Audi Sport to add its RS ingredients to the A5 Sportback recipe to create the RS5 Sportback, which arrived in the early summer of 2019. Less than 12 months later it's been for a nip and tuck – as have the RS5 Coupe and RS4.
Originally conceived as a peace offering to North American customers who don't get the RS4 Avant, the RS5's five-door hatchback body offers some of the Avant's practicality in a sleeker style. You'll be pleased to hear it offers all of the über-wagon's performance, too.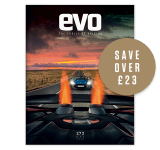 Subscribe to evo magazine
Subscribe today to have every issue of evo delivered straight to you. You'll SAVE 39% on the shop price, and get evo for its original cover price for a whole year!
The updates for 2020 are purely cosmetic, featuring a nose job that sees the RS5's single-frame grille now more closely resembling that of its big brother RS6 and RS7. Nineteen-inch wheels remain standard, with three styles of 20-inch offered as an option. Inside there's a new, larger MMI infotainment system and the driver mode controls now include a quick access RS mode button on the steering wheel. And that's your lot.
Equipped with identical running gear as the Coupe and Avant, the 2.9-litre, twin-turbo V6 RS5 Sportback is an intriguing proposition, one that has no direct rivals and could tempt one or two from their RS4 Avants
> New Audi RS4 review – no V8 but plenty to compensate for it
Engine, gearbox and 0-60mph time
It's not the most charismatic of engines, despite Porsche having a hand in its development, but the 2.9-litre, twin-turbo V6 installed between the RS5 Sportback's swollen front arches (15mm wider) suits the nature of the car. Many will argue that its 444bhp and 442lb ft of torque mean it is found wanting against rivals from Italy and its home country, and in some respects they would be correct.
No matter the engine driving mode selected via Audi Dynamic Select or the new RS button on the steering wheel, it never feels or sounds like a true thoroughbred. The throttle response can be sharpened up by selecting Dynamic mode, but the moment of hesitation when you ask the turbos to spool up is still longer than you expect it to be and certainly off the pace compared to its six-cylinder rivals. It lacks the fury and thunder of AMG's V8s, the solid punch of BMW M's straight-six, and the snap and crackle of Alfa's Ferrari-lite V6. A 0-62mph time of 3.9sec suggests it's no slouch (hand over an additional £1500 and Audi will raise the top speed from 155mph to 174mph), but it's slow to rev and only really comes alive when the rev counter lights up like a Christmas tree ahead of an upshift.
Talking of gearchanges, the eight-speed S-tronic gearbox is well matched to the engine's power and torque delivery, with shifts improving noticeably the more aggression you dial it up via the driving modes. Sadly the gearshift paddles are still too small, and while they now feel much better than on the original they still don't entice you to change gear manually. Although, this is nothing new among cars with similar set-ups
Technical Highlights
Unlike its rivals (until the new M3/4 arrives), the RS5 features four-wheel drive, and Audi Sport's quattro version at that, rather than the simpler Haldex system. It will send more torque to the rear axle than the front, but there's no option to switch to rear-wheel drive and drift for the cameras.
Ceramic brakes are optional and Audi's Drive Select allows you to modulate engine, gearbox and differential settings, while the damper control gives you the option to switch between different interpretations of stiffness.
The changes to the MMI infotainment system have resulted in a larger screen, with the former model's rotary control ditched in favour of a 100 per cent touchscreen interface. As with all systems like this it makes for a clumsy, distracting and dangerous user experience, although it makes Audi's virtual cockpit far more relevant and questions the need for the larger screen in the first place.
What's it like to drive?
Approach the RS5 as a Giulia Quadrifoglio rival and you'll be sorely disappointed. Not only does its engine lack the punch, panache and performance of the Alfa's, but the RS5 clearly hasn't had the same attention to detail applied to its chassis that the Italian has. The steering lacks sharpness, although in today's world of hyper-alert racks it's refreshing to have a set-up that's more considered and linear in its action. It certainly helps the RS5 flow along a road.
The ferociousness of an AMG V8 is lacking too (for obvious reasons), which means there isn't the punch out of corners and down straights that you expect from a car wearing these badges and swollen arches. In isolation it feels decently quick when you ask it to get on with it, but it doesn't have that sternum-crushing punch of its rivals when you let it loose.
Then there is the chassis, which feels a little heavy-footed and one-dimensional. Its body is neatly controlled but there is little flowing back to you as you pick your line and commit. The chassis is competent rather than chatty and confidence inspiring, which doesn't help mask the RS5's portly 1720kg kerb weight – a figure that can ask just a little too much of the brakes if you find yourself on a road with more hairpins than fourth-gear sweepers.
A bit of a damp squib then? Compared to the aforementioned rivals, yes, but consider the RS5 Sportback as a junior GT car rather than a junior supersaloon and it comes into its own. 
Knock your approach back to 80 per cent, lighten your grip on its leash and settle into a rhythm that asks less of the chassis and allows the engine to deliver in its preferred mid-range operating window and the whole car strikes up a rapport with you.
Price and rivals
For the money you could quite rightly expect the RS5 Sportback to be more competitive against the obvious alternatives, but actually I don't think it has any clear-cut rivals at all. So don't consider it as an inferior AMG C63 rival, rather think of the RS5 Sportback as a cut-price AMG GT63 S.
An RS5 Sportback isn't cheap, with a price tag of £67,505, although this is partly immaterial in a world where a car's ownership cost is measured by the monthly payment and not the list price.
By comparison, Alfa Romeo's four-door-only Giulia Quadrifolgio costs from £69,500, AMG's C63 saloon from £66,754 and the estate from £65,479, while BMW's M3 Competition saloon will require £62,905 of your British pounds.