Audi RS5 review – finally an M4 beater? - Audi RS5 vs rivals
Unfazed by all weathers, the RS5 offers huge performance and refinement, although it still wants for more character.
Audi RS5 vs rivals
The supertest in evo 240 pitched the Audi RS5 against its key rivals, the BMW M4 Competition Pack and the Mercedes-AMG C63 S. The RS5 exceeded expectations with its sheer breadth of abilities allowing it to transform from a GT car to a hardcore performance coupe at a touch of a button.
The RS5 won praise against its rivals for the sophistication of its damping and its real-world pace. Criticism came for the way it denies instant access to the kind of thrills the M4 and C63 give up readily. You have to dig a little deeper for the excitement but that almost makes you appreciate the RS5 more.
Weights, dimensions and performance data
The Audi RS5 we tested weighed 1799kg, well up on the 1645kg BMW M4 but well down on the 1847kgcars Mercedes-AMG C63 S, but four-wheel-drive traction and a gearbox that features eight closely stacked ratios let it erupt off the line without wasting a single horsepower.
> Click here for the supertest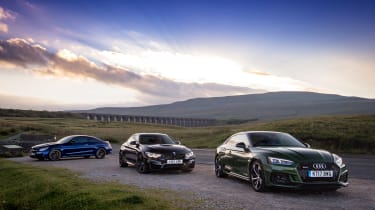 There's launch control just like in the other two but the Audi's system far more brutally effective. The result is 60mph in an incredible 3.6sec – Audi modestly claims 3.9sec to 62. The BMW and and Merc could only manage 4.4sec and 4.3sec respectively.
But things change at higher speeds where the RS5's mass and lack of top-end power sees it start to lose ground. By 150mph it was a full two seconds in arrears on its rivals.
Lap time and track driving 
On our hot laps of Bedford Autodrome's West Circuit, the RS5 split the BMW and the Mercedes with a time of 1:25.0. In most of the corners, particularly the tighter ones, it's able to use its power earlier than its two rivals – proof of its fabulous power and immense low-down grunt. But every time it's surpassed on the straight by the other pair which can accelerate faster.
> Click here for the supertest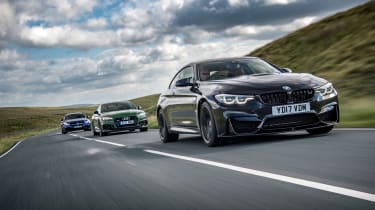 Part of the RS5's impressive lap time can be traced to the confidence it instils in the driver. With little to fear from snap oversteer the driver of the RS5 can use more of its power for more of the time. Yet there's balance and poise there, and unless you carry far too much speed into a bend then understeer is virtually non-existant.
Supertest data and specs table
Audi RS5

 

 

Engine

 

V6, 2894cc, twin-turbo

Power

 

444bhp @ 5700-6700rpm

 

Torque

 

442 lb ft @ 1900-5000rpm

 

Transmission

 

Eight-speed auto, four-wheel drive, electronically controlled rear LSD

 

Tyres

 

275/30 R20 front, 275/30 R20 rear, Hankook Ventus S1 Evo 2

 

Height/width

 

1360mm/1861mm

 

Weight

 

1799kg as tested (1655kg claimed)

 

Power-to-weight

 

251bhp/ton using test-car weight, (273bhp/ton claimed)

 

0-60mph

 

3.6sec as tested (3.9 to 62 claimed)

 

Top speed

 

174mph (optional raised limiter)

 

evo mpg

 

19.6 (average over duration of test)

 

Basic price

 

£62,900

 

PCP monthly price

 

£833 (36 months, £8000 deposit, 10,000 miles per annum limit)