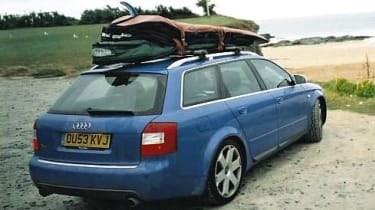 This has rapidly become the hardest- working car I've run on the Fast Fleet. Not only has it had to keep up with Ferraris, Lamborghinis and others of the supercar persuasion, it's also been across Europe, around Wales more times than I can remember, and braved the perilous A14 on a daily basis. It was also my steed of choice for a holiday to Cornwall.
Three of us, complete with luggage and two surfboards on the roof, left Suffolk at an absurdly early hour in the morning, but a journey that would normally take maybe five hours turned into an epic nine-and-a-half hours - just the way I like to start a nice relaxing week away.
Inevitably the jams were caused by caravans, but inside the Audi we managed to stay relaxed thanks to its big, lazy V8, comfy seats and climate control. Thankfully the journey back was relatively painless, and the long haul meant that the Audi's first service was sorely needed.
I booked the S4 in with Vindis Audi of Cambridge, who offered a courtesy car (a brand new A4 1.8T) and promised to call when the car was finished. Duly the service was carried out and the promise was kept. I was shocked. I had been expecting the type of service Harry had suffered with his old RS6 (that is, shoddy and costly). Instead I was given the type of treatment you might expect from the dealership of a certain Bavarian manufacturer. The S4 was valeted and I even had a follow-up call to make sure the service had been satisfactory. The bill was quite pricey at £295.74, but given that this first service was at 18,000 miles (or at least it should have been), in terms of miles per pound spent it doesn't seem quite so steep.
So all is well with OU53 KVJ mechanically, though its front tyres are dying rapidly. I've heard from various sources that this is a big problem with the S4, mainly due to its four-wheel drive and heavy engine, but with only 22,000 miles on the clock should we really need replacements for the second time? Is anyone else out there visiting their tyre dealers more often than their service depots? Let me know at fastfleet@evo.co.uk.
Running Costs
| | |
| --- | --- |
| Date acquired | January 2004 |
| Total mileage | 24,667 |
| Costs this month | £295.74 |
| Mileage this month | 4542 |
| MPG this month | 22.9 |