Bentley Continental GT3 video
Bentley has released a video of its new Continental GT Speed and GT3 racer on track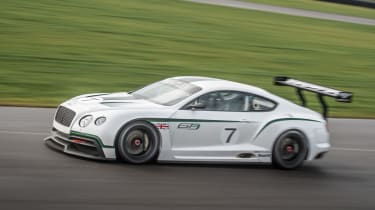 Bentley recently unveiled a new GT3 racing car concept, based on the Continental GT, at the Paris motor show. The new racer is being developed by Bentley in Crewe for a full-on return to endurance motorsport next year.
There has been a massive push to shed weight from the hefty road-going Continental, and a comprehensive aerodynamic package that is still in development should see the car hit the race track towards the end of 2013.
The company says that the GT3 concept is based on the road-going Continental GT Speed, so a tuned version of the W12 is the most likely option, ditching the standard four-wheel drive set-up in favour rear-drive.