G-Power teases 611bhp BMW M5
G-Power unveils its tuning plans for the new F10 BMW M5 saloon. First step, 611bhp...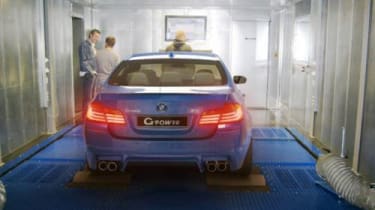 G-Power is teasing the car world with its take on BMW's newly launched F10 M5. If the German tuner's past efforts are anything to go by, the already potent sports saloon is about to become a lot more exciting. G-Power is one of BMW's most creative tuners and set a world record for the world's fastest saloon, its 789bhp V10-engined E60 M5 'Hurricane RR' recording a supercar-slaying 231mph. G-Power recently had a brand new F10 M5 delivered fresh from the factory and got on with boosting performance before other customers had even had chance to run their cars in. The twin-turbo 4.4-litre V8 offers massive potential for tuning, and G-Power's initial goal for the new M5 is 611bhp, some 59bhp more than the already rapid standard car. And this is just the beginning; don't be surprised to see world record chasing cars in the near future, potentially heading towards 1000bhp and well past 230mph. Adding to the mammoth performance upgrades, G-Power will offer its own brakes, stiffer suspension set ups, new wheel designs and aerodynamically developed body kits to add extra visual aggression to the F10 M5. The German tuners are happy with the way development is going and plan to have the finished car ready in 2012.  Expect the fruit of its efforts to be one of the most spectacular M5s yet created.
See the new BMW M5 battle Jaguar, Porsche and Merc on track