BMW M5 and M6 Horse Edition launched in China
BMW has launched a new Chiies special edition M5 and M6 Gran Coupe, to celebrate the Year of the Horse. Details here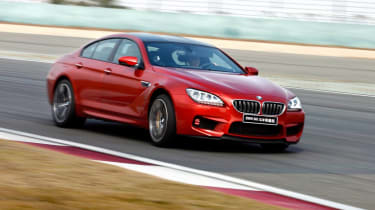 To celebrate the arrival of the Chinese Year of the Horse, BMW has decided to maximise its marketing potential by releasing a Horse edition for its M5 and M6 Gran Coupe. Offering little more than horse embroidery on the headrests, the Horse Editions will at least come as standard with the Competition Package. This ensures both the M5 and M6 Gran Coupe will come with the 4.4-litre twin turbo V8s' maximum available 567bhp.
These special edition cars will be available to the Chinese market in limited numbers, with 30 M5s and just six M6 Gran Coupes going on sale. Owners of the M6 Gran Coupes can at least be happy in the knowledge that their car holds the lap record for a production car around the Shanghai International Circuit, but after handing over extra cash on the already steep £198,500 and £278,000 price tags (thanks to Chinese import taxes), owners will have to really want the added embroidery.
BMW isn't alone in offering special editions of their cars for the Chinese market. In 2012 Ferrari announced it would be selling 20 PrancingDragonHorse 458s, cars that were essentially identical to the standard 570bhp 458, except these special editions featured a bespoke Marco Polo Red paint job and fairly garish black and gold stripe. There was even a large dragon on the bonnet.
Bentley went one step further and actually tailored their engineering to the Chinese market, tuning their Continental Flying Spur Speed China and Continental GT Design Series China's suspension to suit Chinese demand.