What is it?
The X1 is BMW's smallest SUV. It might not look dramatically different from the old X1, but this is an all-new car with different engines and drivetrain. 
Engine, Gearbox, 0-60
Unlike the traditional BMW layout, the new X1's engine is now mounted transversely. This, much to the chagrin of BMW purists, means the X1 is predominantly a front-wheel drive car that can also drive the rear wheels. In fact, the more budget X1 models are front-wheel drive only.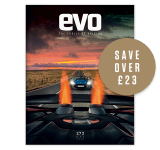 Subscribe to evo magazine
Subscribe today to have every issue of evo delivered straight to you. You'll SAVE 39% on the shop price, and get evo for its original cover price for a whole year!
This xDrive20d is an all wheel drive model. It also has a 2.0litre, four-cylinder turbo diesel with 188bhp and a torque output of 295lb ft. The standard gearbox is an eight speed automatic unit.
With a weight of 1550kg, and a rather ordinary power figure, it's no surprise the X1 isn't particularly quick. It will reach 62mph from a standstill in 7.6sec and has a top speed of 136mph, nothing to write home about.
The engine, which sounds very much like a rattley diesel, actually revs smoothly and has some punch at the top end. But as is the case with a lot of diesels, the engine feels most muscular when kept in its mid-range and with each gear change comes a definite swell of acceleration.
However, the gearbox feels lethargic. Every gear selection feels ill-defined and draw-out. The glacial pace in which the 'box reacts to up shifts would be unacceptable ten years ago, let alone what it feels like compared to the current, instantaneous double-clutch gearboxes. Amazingly, downshifts feel quicker.
Technical highlights
There's very little new technology in the X1. However, as mentioned before, the X1 has a transversely mounted engine. This has meant that the four-wheel drive system is now similar to the ubiquitous Haldex systems found on all wheel drive Volkswagen group cars. The new Mini Countryman will also use the X1's new platform.
What's it like to drive?
The interior, although looks nice with flowing lines, is sadly made up from some tough, functional feeling materials. The leather of the seats has a coarse grain and many of the plastics don't feel as plush as you'd expect of a BMW.
Getting comfortable is very easy, though. The seats and steering column have a great range of movement and allow you to find the perfect position. The usual complaint about sitting too high isn't so much of a problem in a high riding SUV, even a pseudo one like this.
Low speed manoeuvring is, rather surprisingly, quite tricky. The X1 does creep forwards in Drive with no throttle, but only on flat or downhill surfaces. The creep speed seems far too fast, but the brakes require hardly any pedal movement to snatch at the disks and stop the car. This makes trying to park, or negotiate obstacles at a slow but consistent pace, practically impossible. Instead you move in short, quick, jerky lunges like a learner driver who is still getting to grips with clutch control.
To get the X1 to move when pointing up a slight incline, requires some throttle. But, the slow take-up from the gearbox means you pile on more throttle before you start to move. Of course, then once you do pull away it's at a speed that's completely inappropriate for the manoeuvre you're trying to perform.
The X1 doesn't posses any of the cumbersome, graceless traits shared by most SUVs. Arguably, the X1 isn't a proper SUV. What the slightly higher than normal ride does help with though, is a comfortable and supple ride. Combined with the exact driving position you can achieve with the seats, the X1 is a very relaxing car. This encourages you to drive in a very calm manner, and when you do, you can achieve quite fantastically high economy figures. The official combined consumption is 57.65mpg, which is actually achievable for once.
Push a bit harder, and although the X1 isn't unravelled, it does feel slightly out of its depth. It never feels very quick, the lack of immediacy in the drivetrain doesn't help this. The amount of body roll is smaller than expected, but it doesn't feel particularly in tune with the body control, which can often make the car feel floaty down an undulating road.
There is plenty of grip in relation to power and the front wheels themselves feel like they could deal with the performance alone. Corners are dealt without any real drama, but the front axle is always the first to loose grip when pushed. On corner exit, there is never a hint of the 4WD system activating the rear wheels.
Ultimately, the X1 isn't engaging at all. There's very little satisfaction from driving it quickly, so although it isn't a bad car, it's not memorable by any means.
How does it compare? 
The X1 xDrive20d is £31,935, about the same sort of money as an M135i. The X1 is marginally more practical, but in almost every other way the M135i is better. It's more engaging, much more fun, far more desirable and better looking – not something you can say of the M135i very often.
If you must have a jacked-up hatch back, because that's all the X1 is, then there is plenty of choice. Audi's Q3 has a well designed, neat interior and looks sharper then the X1, but you'll need to fork-out more than £40,000 for the special RS Q3. The Mercedes GLA feels smaller but offers more luxury than the X1, and is priced about the same. The Range Rover Evoque might be a little more money than the X1, but is a more stylish car and can perform better offroad. However, Jaguar's new brilliant F-Pace is only a touch more money than the X1 at £34,170.