Mercedes-Benz SL55 AMG (2007)
Offering supercar pace and everyday usability from just £35K, a used SL55 is a real bargain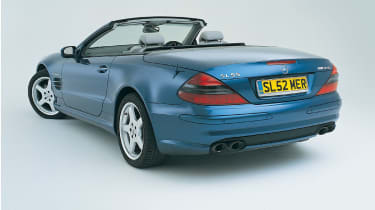 Back in February 2002 we called the Mercedes SL55 AMG 'a supercar in disguise', and that's exactly what it is. Underneath its subtly beefed-up bodywork sits an enlarged and supercharged version of the V8 from the SL500, but the character transformation is so great you'd be hard pushed to tell they're related. Seemingly the 55 has more in common with a Can-Am race car – on full boar it certainly sounds similar and the performance is pretty outrageous too. The 0-60mph dash is over in a mere 4.6sec and it'll slam effortlesslyinto the 155mph limiter with most of fifth gear to spare. In fact, one German magazine removed the limiter and recorded figures on the interesting side of 200mph…
Packed with 493bhp – and 516lb ft of torque all the way from 2650rpm to 4500rpm – it annihilates straights and, despite weighing almost two tons, the Active Body Control suspension keeps it all in check, delivering a firm yet comfortable ride.
It appears that most people in the market for a second-hand SL55 also view it as a supercar, wanting only low-mileage, fastidiously polished examples, which means those who bought a 55 to use on a daily basis have had a bit of a shock at resale time. But the surprising lack of buyers wanting to take on cars with regular mileages on their odometers means that it is now possible to get yourself one of these £90,000 motors for prices that start with a three.
We wouldn't necessarily recommend you go quite that low – buying the cheapest example you can find is rarely the most financially sound decision in the long run – but you can get very good examples the right side of £50K, which for a supercar is a bit of a steal. How do you separate the wheat from the chaff? Here's all you need to know.EvolutionThe SL55 went on sale in the UK in the autumn of 2002 and instantly commanded a premium – in the early days there was a waiting list of up to a year. Production soon caught up with demand, however, and second-hand prices began to fall accordingly.
Other than a few subtle modifications to attend to some early problems, the SL55 continued unchanged until 2005.
The F1 pack became available as an £8500 option that year, and a car so equipped is worth seeking out. The pack includes AMG 'Type-4' wheels (19in as opposed to the standard 18-inchers), a different front apron, an extra oil cooler, uprated 'Nürburgring' sports suspension and a revised braking system. The speed limiter was also raised from 250 to 300kph (186mph).
Other options worth looking out for include the Nappa leather interior and the panoramic roof (the latter cost about a grand extra when new, but only really looks good on a black car). The AMG five-spoke wheels are worth going for, too, and not just for their aesthetics – they're considerably easier to clean than the multi-spoke ones!
Cars from 2005 onwards also received an uprated, DVD-based satellite navigation system that offers much more detail than the earlier CD-based set-up. The CD version is perfectly adequate though, so don't worry about having the earlier system. Finally, in 2006, the introduction of a higher-speed supercharger and a larger throttle valve saw a slight increase in power to 508bhp, with torque up to 531lb ft.