TVR Cerbera
This charismatic British sports coupe can make a great second-hand buy – if you choose wisely. Here's what to look out for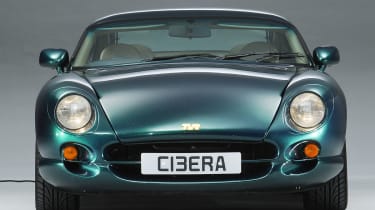 This is one tempting idea. Less than £10,000 will buy you the archetypal big-muscle TVR coupe, the Cerbera, a monstrously rapid machine powered by that most daring of engineering adventures, an engine designed and built in-house. For a tiny specialist car maker to do such a thing, and get it through all the legislative hoops, was extraordinary, and it's reason enough in itself to want a Cerbera.
But there's much more to a Cerbera than just a race car-like, flat-crank V8 or a dry-sumped straight-six. There's the way it looks, brutal and Brit-biceps rounded, with a daring lack of exterior clutter. This is TVR at its visual best, purer than a contrived Tuscan, stocky and assertive. The cabin shows signs of the visual acid trip later to spill over to TVR's external design language, with curves and chasms and buttresses for all the world like a cosy, leather-trimmed crypt. But the instruments and switchgear are all TVR-bespoke – another thing that set TVR apart from other specialist car makers, who all too often relied on mainstream car makers' parts bins.
It's a glassfibre-bodied car, of course, but the finish was generally excellent and the fit passable. Under it all is a tubular steel chassis, inherently tough but nowadays a key TVR problem area. This, plus temperamental electrics and disintegrating clutches are the Cerbera owner's biggest nightmares today. Not so the engines; after some initial worries they have proved durable if – and it's a big 'if' – they are properly maintained. 'Beware the £300 service when looking at a car's history,' says Paul Glynn of independent specialist Prestige Performance Cars. 'It's impossible to do all that's needed for that price, so things will have been missed.'
You might think that the TVR company's demise means a nightmare in finding parts, but in fact the situation is healthy. Multipart took over the factory's parts operation, and several ex-factory people have set up units to recreate body sections and trim parts.
Buy a good Cerbera, be it either V8 (4.2-litre/360bhp or 4.5-litre/420bhp) or the 4-litre, 350bhp slant-six, and you'll have a blast. They all sound cracklingly thunderous, with power pouring forth in ever-greater quantities throughout the long throttle travel and lighting up the rear tyres whenever required. There's no traction control, no ESP, just 1100kg of mass, and the steering can feel disconcertingly edgy at first, but learn it and you'll love it. Just make sure you buy a good one.
I bought one
'It's a late 1997 4.2, and we've had it since August 2001. The "we" bit is very important – my wife Chloe is as much of a petrolhead as me. When we were both 18 we saw a Cerbera and wanted one, and by the time we were 23 we had one!
'It came from Walldonway TVR in Kent, and it has been 99 per cent reliable. The clutch slave cylinder failed, but it was fixed under warranty.
'Our car has sports exhausts and is de-catted, except at MOT time. It's too loud for trackdays now, though. New cats are £200 each and the honeycomb inside melts if the throttle potentiometers are failing and the engine is over-fuelling.
'We've always garaged the car apart from one six-month period, so the chassis is sound, and I've Waxoyled it to keep it that way. But people are starting to do home restorations now – with six people you can take the body off to restore the chassis.
'I love the Britishness, the noise and the drama of the Cerbera. There's nothing to touch it for the money.' Oliver Allen-Gausden
Useful addresseswww.ppctvr.co.uk (specialist)www.tvr-car-club.co.uk (owners' club)