Cadillac CTS-V
Storming 191mph supersaloon undercuts BMW M5, Audi RS6 and E63 AMG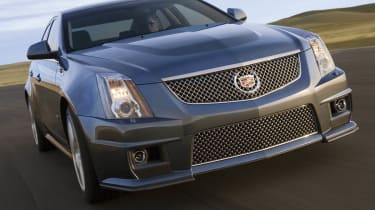 Cadillac has priced its storming CTS-V supersaloon at £56,495. Sound a lot for a left-hand drive American? Well it's £10k cheaper than the BMW M5 and Mercedes E63 AMG, which both have considerably less power and torque, and a full £20k less than the Audi RS6 saloon.
While the Caddy's 556bhp is short of the hot A6's 572bhp, the CTS-V fights back with a mighty 551lb ft. The Audi has 479lb ft. Unlike its German rivals, the Cadillac boasts a sub-4sec sprint to 60mph and no speed limiter - leading to a 191mph top speed. Altogether it helped the mighty V to create quite the upset in October 2008 at the Nurburgring, beating the big three on their home turf by snatching the fastest production saloon record round the Nordschleife with a time of 7:59.32, albeit unofficially.
Helping the CTS-V put its power down through Flugplatz and the carousel was a variety of trick braking and suspension technologies. There's magnetic ride control, featuring electro-magnetic shock absorbers as well as big Brembo brakes - six piston calipers and 380mm discs at the front, four piston calipers and 373mm discs at the rear. There's also hydraulic brake assist and rear brake proportioning; systems that no doubt help bring the near two-ton Cadillac to a much brisker halt.
The car is available in the UK from February 2009, happily unaffected by it's parent company's current money woes. If you want automatic transmission, it's an extra £2.5k on top of that bargain £56,495. Read John Simister's review of the Cadillac CTS-V.