Chrysler responds to Grand Cherokee elk test
Chrysler and the Swedish magazine Teknikens Värld respond to the dramatic Grand Cherokee elk test results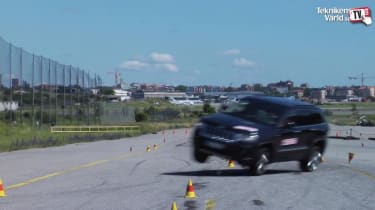 Chrysler has responded to the video we posted last week of the Jeep Grand Cherokee ending up on two wheels while undergoing the notorious 'elk test' run by a Swedish magazine. Chrysler denies that the test proved there's anything wrong with the way the Grand Cherokee handles extreme situations. But, when we put the company's accusations to the magazine involved, we got an equally emphatic defence of the test procedure.
You can read our original article here. And, in case you haven't seen the video – or want to see it again in all its alarming glory – it's right here.
It continued: 'Chrysler Group engineers are investigating this evaluation of the 2012 Grand Cherokee. During a subsequent evaluation on July 8th in Sweden and witnessed by Chrysler Group engineers, three vehicles performed 11 runs on a course prepared by the magazine. None reproduced the original event.'
Pretty big allegations - which in turn we put to Teknikens Värld, the magazine that has been conducting the 'elk tests' to simulate a high-speed evasive manoeuvre for over 30 years.
'The car was not overloaded according to the Swedish certificate of registration,' Marcus Engström, Teknikens Värld's managing editor told us, 'the fact is that the three cars used in the repeat of the elk test weighted 50 to 130kg more than what the registration document says… The registration in Sweden says the maximum load is 602kg, which with the true weight of the car gives a total of almost 3100kg. [One of the] development engineers said at the repeat of the test that the car can only be loaded to a total weight of 2949kg, which gives a discrepancy of about 150kg between what Chrysler says is correct and what the registration papers say.'
'We always test the cars in the elk test manoeuvre with the maximum load according to the registration. Teknikens Värld have done so for a very long time and with very many cars. So no, the car was not overloaded.'
When it comes to Chrysler's claim that the elk test isn't part of any established safety test, Engström was just as forthright:
'We test cars for regular people, our readers, and the elk test is made to simulate a panic manoever when an obstacle – or an elk – suddenly shows up on the road. It may not be certified, but it's been done in the same way, by the same driver, for a very long time, and I think most people agree on the fact it has value. And what would the manufacturer say to anybody who flipped the car on the road: "We're sorry, but that extreme manoeuvre is not certified?"'
We also asked about the final part of the video, where several Grand Cherokees suffered front tyre blow-outs while attempting the manoever in the lower weight configuration.
'The car was loaded according to their wishes, to 2949kg,' Engström said, 'seven tyres were blown off their rim. We think that the tyres give the car too much grip, but we haven't got any official answers yet.'