Jeep Grand Cherokee fails Elk test
Swedish car magazine Teknikens Värld put the Jeep Grand Cherokee through its own version of the Elk Test, and they found a problem...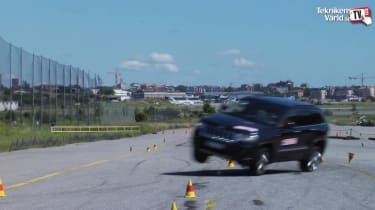 Teknikens Värld, the Swedish car magazine, has uncovered a problem with the latest generation Jeep Grand Cherokee, when taking evasive action. Known as the Elk, or Moose test, Teknikens Värld loaded the car to within its capacity, and drove through a series of cones at 40mph. The Cherokee tipped onto two wheels as it performed the test over a month ago.
After Chrysler/Jeep got in touch with the Swedish publication to confirm the issue, the manufacturer claimed the Cherokee was incorrectly loaded. After much discussion between the two, the test was re-done, and this time confirmed by Jeep/Chrysler using three different cars.
All the car's safety systems, such as electronic stability control and the anti-rollover system was turned on. Teknikens Värld specified in the latest video (below) that the car was 'Loaded according to Swedish certificate of registration, handed by Jeep', 'Tyre pressure according to Jeep's official specifications' and 'Quadra-lift air suspension in Auto mode'.
The car subsequently failed the test again, and the magazine reported that on seven of the twelve attempts, the Jeep blew out a front tyre.
Teknikens Värld has been performing this test since the 1970s, and was famously responsible for getting the first generation Mercedes-Benz A-Class withdrawn from sale after early cars were found to roll over during the test.
Update: Chrysler and Teknikens Värld have both responded to this story. Click here for the latest.