Peugeot 107
Fun new baby cars from Citroen, Peugeot and Toyota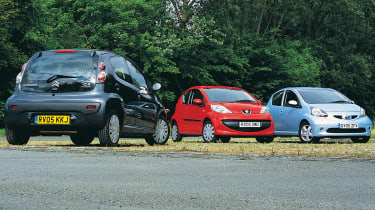 The new Citroen C1 (aka Peugeot 107, aka Toyota Aygo, as all three are basically the same car) weighs less than a Saxo and roughly the same as a current Elise 111S. To save you looking it up in The Knowledge, that's about 800kg. In an age when supposed superminis such as the Pug 1007 (so unexciting that you're not even allowed to call it a 'one double-o-seven') are slaves to weight and young parents, this comes as quite a shock. So, while fuel consumption and production costs are the main reasons for the newcomer's relatively waif-like form, could the by-product be a new entry-level, evo-friendly supermini?
The first encouraging signs come from the three-cylinder engine. Turn the key and the car seems to gently vibrate and buzz to the engine's idle (it actually creates a sensation not unlike a luxury car's massage function). Unexpectedly for a diminutive 998cc engine, it has definite bass to it at lower revs, but the best bit starts above 3000rpm. Here, just like a Smart only better, the note takes on the character of half a 911's boxer engine. It's genuinely aurally addictive and as you're never ever going to drop below 50mpg whatever you do, you can access it guilt-free whenever you like. However, the lack of weight isn't obvious in 0-60mph terms and, with just 68bhp at 6000rpm, you do need to make it sing for its speed.
The ride is promisingly firm, but the highchair curse of modern cars hasn't escaped our trio and accentuates the initial lean into a corner. Once turned in, though, the bug-eyed fun-ball just digs in its ultra-skinny eco-Contis and grips. It's more than happy to be adjusted on the throttle and the whole experience is so friendly that you begin carrying more and more speed into corners until you just start laughing. Yes, the steering could be more direct, but it never really impedes you and with less body-mass there's less build-up of momentum, fewer hidden forces to appear just when you don't want. Lift off half-way through a bend and it'll turn-in more. Simple.
Partnership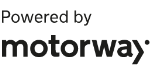 Need to sell your car?
Find your best offer from over 5,000+ dealers. It's that easy.
Ultimately, a 7K, insurance group 1E supermini won't set the driving world alight. What these three do, however, is instill the fun of driving in those who have just torn up their L-plates. On this level the C1/107/Aygo succeed brilliantly: they look, sound, and go in a way that just makes you smile. This is what the Smart Forfour should have been.
Specifications