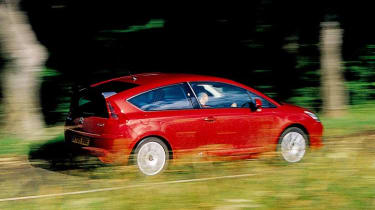 It's not enough to like a car. You're reading this magazine, so you'll know that the best cars are objects you bond with, not just like. When you bond with a car, you find excuses to go on a blat through the lanes or take the long way home. You wind the window down to hear the sounds it makes. You search for that perfect moment of car/driver oneness.
I've had a few good strops in the C4, and at times I've marvelled at its single-minded adhesion in a really fast bend. But that's the problem: single-mindedness, never a fruitful thing in a relationship. The grip comes at the cost of fluidity, true slip-angle-revealing steering feel (weighting alone is not enough), the poise and authority that come from suspension supple enough to soak up our rubbish roads while still responding crisply to commands.
So I don't go seeking solo driving thrills in the C4 for the sake of it. The ride is too wearing, the brakes too horribly, unforgivably, scandalously snatchy (they make me so angry), the interface too fragmented. These things stop it being a true drivers' pleasure machine, for all its clever design and its creators' fresh thinking. And no true drivers' car would have a lane-change warning device or a built-in speed limiter (which, naturally, I have never used).
So if I want a rousing drive, I take my faithful old 205 or, now, my new toy, a Lancia Fulvia HF. If I want airbags and ABS, I take the Citroën. It's a mood thing.
Running Costs
| | |
| --- | --- |
| Date acquired | June 2005 |
| Total mileage | 7422 |
| Costs this month | £0 |
| Mileage this month | 782 |
| MPG this month | 30.7mpg |