Chevrolet launches LT1 Corvette engine
Chevrolet has released details of the new LT1 V8 engine, which will power the 2014 Corvette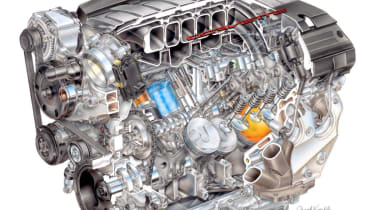 Chevrolet has revealed details on the next generation LT1 V8 engine, which is set to power the 2014 Corvette. The 6.5-litre small-block V8 features direct injection, variable valve timing and active fuel management – adding up to what Chevrolet claims to be the most powerful and efficient standard Corvette engine ever.
Although power hasn't been confirmed, it is estimated to produce around 450bhp – capable of pushing the Corvette from 0-60mph in 'under 4secs'.
The all-aluminium engine represents what Chevrolet claims is the biggest leap in technology ever for the small block V8. The new powerplant is actually 18kg lighter and 10cm shorter than the outgoing 7.0-litre LS7.
Technical highlights include advanced oil-spray piston coolong, tri-lobe camshaft, high-pressure cam-driven fuel pump, offset water pump and thermostat for more efficient performance and a new intake manifold and throttle body assembly.