Watch - Dodge Charger Hellcat clocked at 204mph
The Hellcat proves what that stonking 707hp engine can do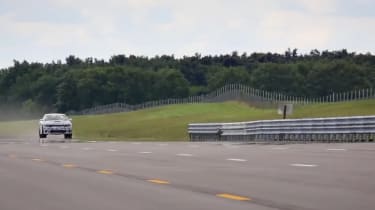 The Dodge Charger Hellcat's 707hp normally is translated to rather impressive wheelspin, but not in this case.
A testing video shows the hugely powerful four-door saloon manage a massive 204mph, which is incredible for a car of its size and weight.
The same engine found in a Dodge Challenger Hellcat recently saw the car instantly out-dragged by a Tesla Model S P85D.
It's clearly a total powerhouse, with the Hellcat managing an average of 204.55 between 206.90 and 202.20 on a 7.5 mile oval.