Tesla Model S P85D vs Dodge Challenger Hellcat drag video - see new performance electric saloon in action
Elon Musk wasn't exaggerating when he said it was fast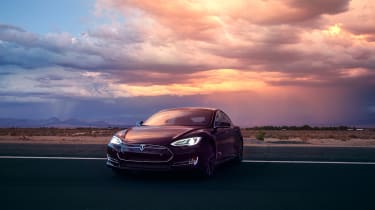 Tesla has made plenty of promises around the performance on offer in its new dual-motor Model S P85D, but until now it's been difficult to measure them.
Pitted against a 700hp Dodge Challenger Hellcat, the sheer power on offer in the new Tesla becomes clear. A 3.2 second 0-60mph time is matched with an incredible 11.6 quarter mile run clocked at 114.6mph. This has been verified as a new world record for an electric production car.
The P85D has two motors, one mated to the front axle and another to the rear, the end result of which is clearly a very aggressive launch from a standstill.
Electric motors can be controlled digitally, allowing very accurate amounts of current to be distributed between the two, which is what will have helped the P85D off the line. It means wheelspin can be controlled extremely well and translates to that 3.2 second 0-60mph launch.
The Dodge Challenger Hellcat struggles with traction from the start of the race which doesn't help its chances. Even so, it's clear the P85D is a very powerful machine.