Hennessey gives the Dodge Charger SRT Hellcat over 1000bhp
Texas based tuner replaces the Hellcat's supercharger for a bigger unit and turn the four-door saloon into a sub 10sec quarter-mile car
Dodge's insane Challenger Demon might be attracting most of the muscle car attention. With just one seat, 850bhp and the ability to do wheelies that's no great surprise. But Hennessey, known for its monstrously powerful and fast cars, isn't content with playing second fiddle to Dodge and have released the performance figures of its Charger Hellcat HPE1000 in an attempt to recapture its title as source of the most potent muscle cars.
> Read about the Dodge Challenger Demon here
Hennessey takes the already well-endowed four-door Dodge Charger SRT Hellcat and replaces its supercharger with a bigger unit that produces 14psi of boost. The American tuning firm also adds a set of stainless steel exhaust manifolds, high-flow injectors and fuel pump, it also improves air flow to the supercharger with an induction system.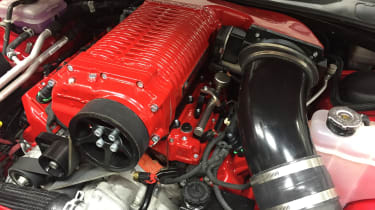 These upgrades turn the top-spec Charger's 6.2-litre V8 from a 707bhp and 650lb ft of torque motor into one that produces an estimated 1012bhp and 969lb ft. Those figures aren't exact because, instead of measuring the motor's output on an engine dyno, Hennessey used a rolling road to calculate the power at the rear wheels. Its Charger Hellcat HPE1000 put down 891bhp, not only is that 240bhp more power at the wheels than the standard car, but it's 51bhp more than the Demon – the most powerful production muscle car – can muster at the flywheel.
> Find out what we thought of the Hennessey Venom
And, to make things even better, Hennessey has documented the rolling road session with a video. Not only do you see the Charger tugging at its retaining straps and its engine twisting as it unleashes its monumental torque, but there's a spectacular sound track too. The opening shot of the new polished compressor is accompanied by a typical supercharger whine, with only the faint sound of angry V8 exhaust noise in the background it sounds decidedly eerie. The next shot from further back is dominated by the thunder emitted from the back of the car, yet you can still hear the chilling wail from the superchargers.
Hennessey say that its Charger Hellcat HPE1000 will accelerate from 0 to 60mph in 2.8sec and complete a quarter of a mile in 9.9sec when fitted with drag radial tyres. That might not be quite as quick as the Challenger Demon's 9.65sec quarter-mile time, but Hennessey's Charger has two more doors and four more seats.