Mercedes SLS Black at the Nurburgring with Michelin: video
Michelin and Mercedes worked together at the Nurburgring to develop the SLS Black's Pilot Sport Cup 2 tyres. This video shows the process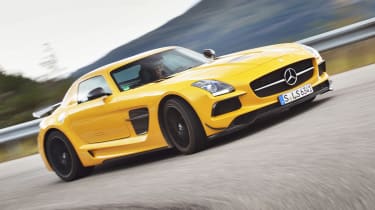 Michelin has released a video revealing how it teamed up with Mercedes to develop the Pilot Sport Cup 2 tyre for the SLS AMG Black Series. With 622bhp and 468lb ft of torque ready to chew up the rears, Michelin had to specially develop the Cup 2 to ensure the Black Series had the boots to make it as competent on the road as it is on the track.
Over a year of development through five phases, Michelin's engineers worked overtime to give the Cup 2 tyre the incredibly high level of grip required to work with a car that produces track car levels of downforce.
The results are impressive, with the SLS AMG Black Series lapping the challenging Nurburgring in 7min 25sec, making it quicker than the Ferrari 458 Italia and the McLaren MP4-12C. Even our own verdict confirmed the car handles like a racecar that has been adapted for the road, the tyres offering outstanding levels of traction despite that 6.2-litre V8 doing its best to tear them to shreds.
Partnerships like these are highly effective because engineers from both sides push each other to the limit, constantly requiring more and speeding up the rate of development. Mercedes and Michelin thankfully also have extensive amounts of motorsport experience to call from.
That experience, combined with the development of the SLS AMG Black Series' tyres, has helped to reduce braking distances, improve traction and reduce lap times, all without compromising day-to-day usability. The great news for us is, even if we're not lucky enough to own an SLS, the tricks learned whilst creating the Pilot Sport Cup 2 will no doubt trickle down into other tyres in Michelin's range.
Watch the video to learn more about how the Michelin-Mercedes tie up helped create one of the most brutal supercars money can buy.