With the dust from Goodwood house still fresh on the M5's paintwork, the British Grand Prix beckons just a week later. With the title battle between Rosberg and Lewis hotting up, this is going to be a pivotal race in the season.
Having been to the F1 in the UK, Australia, Belgium and Italy in the last five years, I remain highly conflicted about our home event. Yes it is truly fantastic from an atmosphere perspective but the fact that it remains the most expensive race to attend on the calendar for the casual race fan, leaves mixed emotions each time I come to book the tickets.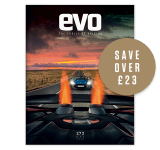 Subscribe to evo magazine
Subscribe today to have every issue of evo delivered straight to you. You'll SAVE 39% on the shop price, and get evo for its original cover price for a whole year!
Last year, I was fortunate enough to be in the Paddock Club via a work contact, it was a truly mind blowing, if not surreal, experience from start to finish topped off by being on the table next to Bernie as he sat watching the race with Niki Lauda. I was sat next to the Billionaire equivalent of The Muppet Show's Statler and Waldorf. This year I was back in general admission with the hoi polloi and I honestly had an equally good time on both occasions, for slightly different reasons.
The 2014 event started off with a bit of route planning. Most fans head to the circuit via the M1 or M40, however if you are heading up from West London there are some fantastic routes to take if you want something a little more stimulating than three slow moving lanes of blacktop to stare at. Head out of London and take aim for Amersham then Aylesbury then Buckingham and you will have discovered a fantastic traffic free route to the home of British motorsport.
With this route mainly being a mixture fast flowing A-roads, it shows off the M5's handling dynamics yes, but what really stands out is the brutal overtaking ability of the big BMW. With a plethora of Sunday drivers already out in force, there was no shortage slower moving vehicles to breeze past with devastating ease.
The bountiful ribbon of A-road leading to the track is made all the more enjoyable with the car sitting on its new rubber. The Michelin Pilot Super Sports only serve to emphasise what I started to discover on the drive down to Goodwood. My confidence in threading the car down these kinds of roads when pushing on has increase considerably. The car seems to have shrunk vs the last time I took this route, the M5 feels so much more precise.
Almost as satisfying as the route itself, is the fact that it just so happens to sneak you around the back of the circuit to the F1 hospitality parking area. With general admission tickets in hand we could stake no genuine claim at the entrance gate but with some confident yet vigorous pointing at a perfect stranger's '14-plate' Rangie in front, we simply kept our windows up and rolled past the reluctantly nodding 16 year old in what looked like his dad's florescent orange jacket. Result.
We park up next to a Lovely 458 Italia, a slightly rough looking Maybach, a Cayenne GTS with what sounded like straight pipes and a fully stickered up McLaren 12C. Walking away from the M5 in this company you cant help to grin at its understated yet purposeful looks.
My partner in crime for the day (brother in law Paul) has never experienced the F1 or a BMW M5 in the flesh, so excitement brims as we head in to locate our spot for the race.
With camping chairs firmly planted on the gravel bank above Becketts we have a great view of the cars as they come out of Copse all the way through to Stowe.
A great spot that left us pretty much in front of Rosberg pulling to a halt and handing Lewis the lead mid way through the race.
In terms of support, I tend to root for different drivers each year. These are usually the underdogs or the drivers I feel are most deserving this season. Of course I am loving Lewis's run at present as I think he deserves another world title but the drama queen act does wear a little thin at times. Ricciado, Kimi and Alonso receive the remaining support this year for varying reasons.
Despite cheering Kimi and Alonso on, I find Ferrari's staggering arrogance over their overpowering sense of entitlement to victory simply irritating. Exercising power to change rules in your favour, threatening to leave the sport every 5 minutes and replacing your team principle with a guy with zero motorsport experience can only alienate any non Italian fan that understands even the basics about the sport.
This year's muted exhaust notes did give me a chance to reflect on the future of the sport, and how it must adapt to a changing world. With smaller V6 turbos, and hybrid drivetrain, the sport is certainly moving in the right direction.
With groundbreaking technological breakthroughs coming through in emerging motorsport, such as the eagerly awaited Formula e series, it gives a glimpse of how far things can go. The Michelin-shod Formula e racers have recently been tested, and although the slightly sci-fi soundtrack takes some getting used to, you can see how motorsport can be green and exciting at the same time. 
Follow Dion on twitter @DionMobile
Extra Info