Great drives: derestricted Autobahns
Not all great driving roads are full of corners, some are just about experiencing pure speed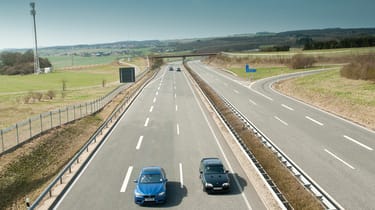 The roads: various Autobahns across Germany. Great for: Bugatti Veyron, Hennessey Venom
Corners and scenery are what define most of the Great Drives I've written about over the past couple of years. This month, however, I shall be extolling the virtues of neither. Germany's Autobahns, specifically the derestricted parts, always seem to be near the top of 'must drive' lists and it's easy to see why, as the lure of legally going as fast as you can on the public road is a strong one. What's more, the desire to do so only seems to increase as the years pass and the likelihood of a blanket speed limit grows (although with Angela Merkel's Christian Democrats having been re-elected last year, the derestricted Autobahns should be safe for a while yet).
Due to the vagaries of traffic, road works, etc, it's not always easy to predict where you'll be able to go fast. However, the following sections of Autobahn are a geographically widespread selection of stretches that evo has been to in one capacity or another over the years.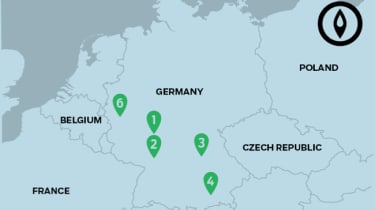 The most historically significant is the A5 between Frankfurt and Darmstadt (number 1 on the map here). This is where Rudolf Caracciola drove his 736bhp Mercedes at a public-road record 268mph on January 28, 1938, and where Bernd Rosemeyer lost his life later that day trying to top that in an Auto Union. The A5 between Karlsruhe and Mannheim (2) and the A9 from Ingolstadt to Nuremberg (3) are stretches used in evo 055, when a young Jethro Bovingdon drove a twin-engined Audi TT to 205mph, and what would become Harry Metcalfe's Zonda failed to creep above 199mph. The A8 south of Munich (4) is too busy by day, but at night I managed over 200mph in a Bentley Conti GT Speed (it was easier heading towards Munich). I also managed a healthy speed in a Corvette Z06 on the A7 just after crossing the border from Denmark (5). Finally, the A1 south of Cologne (6) is on a possible route to and from the Nürburgring and as it's a sort of road to nowhere (it doesn't end at a city), it frequently seems to be quiet.
Watch out for
There are a myriad of things to bear in mind if you want to go fast on an Autobahn, and this is not an exhaustive list (so use common sense).
Tyres are critical, so check pressures, speed ratings and condition before attempting any big speeds. How does your car behave when braking from big speeds? The balance might not be as you expect, so you need to be aware before hauling on the middle pedal as hard as you can from 160mph. Leave room between yourself and other traffic, and then leave more just to be sure. You should be looking and planning a very long way ahead and if you're at all unsure about another vehicle's movements, back off. Also remember to check your mirrors – you might not be the fastest thing out there.
The weather can play havoc with a car at speed: standing water is to be avoided, but high winds can also be unnerving, particularly if they hit you broadside. Night-time can mean that the Autobahns are quiet, but watching the red lights ahead can be deceiving and it's easy for a truck to conceal a car from view. And finally, don't chase numbers: try to hit 200mph if you want, but if you're doing 199mph and the truck up ahead starts indicating, don't be tempted to keep accelerating.
Michelin recommendation for the Autobahn
The Bugatti Veyron is a special car. And a special car needs a specially-developed set of road rubber; tyres that can travel at high speeds up to 250mph and at length on the Autobahn, as well as being capable of temporary use in the event of a puncture. Welcome to the Michelin PAX run-flat tyre system.  Comprising an innovative rim and asymmetric wheel design that locks the two together, the PAX tyre banished the need for a stiff supporting tyre sidewall. As a result, the Veyron enjoys a much improved ride whilst benefiting from weight and space savings through omission of the spare wheel.
Some nine years after its launch, the Veyron still commands respect and a considerable road presence, not least thanks to its colossal rear Michelin PAX tyres spanning 365mm. Like many good inventions, circumstances conspired such that the PAX tyre did not become the widespread commercial success it might have. However, the spirit of innovation lives on in Michelin's latest generation of improved riding run-flat tyres, the Michelin ZP (Zero Pressure).