Nowhere else in the car world do you get the same eclectic spread of ideas, projects and general curiosity than at international motor shows, and this year's event in Detroit has presented plenty for discussion.
The headline-grabbing cars are the obvious ones – there's been a new Honda NSX and a surprise Ford GT replacement, so that's fair enough – but the devil is so very often in the detail. These are the evo team's favourites.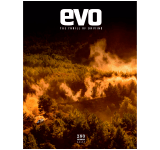 Subscribe to evo magazine
Subscribe today to have every issue of evo delivered straight to you. You'll SAVE 39% on the shop price, and get evo for its original cover price for a whole year!
Ford GT - rear lights
'The 'afterburner' aesthetic has worked well on recent Ferraris – but using the centre section as a vent on the GT rear lights is a stroke of genius by the Ford designers' - Nick Trott, editor
For enthusiasts a car's brake lights can form a surprisingly large part of its character. A quartet of demonically glaring rings in the dark, for example, signify that you may well be following Nissan's finest, while thongs at a 90-degree angle mean that the car in front can only be a modern-era Lamborghini. The Ford GT concept's rear lights, meanwhile, are classic but effective.
Porsche Cayenne Turbo S - brake calipers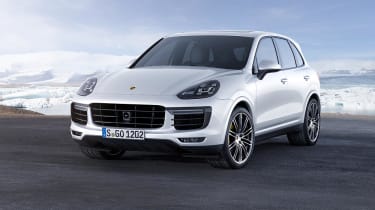 'With a sub-8 minute lap of the 'ring, it's little wonder Porsche have had to go so big on the brakes' - Stuart Gallagher, managing editor
It could easily be argued that a car with more than 570bhp can never be 'over-braked', but the counterargument could well come in the form of the new Porsche Cayenne Turbo S. Ten-piston brake calipers at the front – that's two more pistons per caliper than the Bugatti Veyron – grip herculean 420mm discs to bring the V8-engined SUV to a shuddering halt in no time at all.
Honda NSX - side air intakes
Wind tunnel testing has seen the production NSX sprout a number of aerodynamic trappings, but the side vents exploding out of the V6 hybrid's quarter panels are superbly aggressive. Catch the car at the right angle and you'll glimpse delicate Ferrari 599-esque flying buttresses arching upwards, too. 
Mini Cooper JCW - gauge pod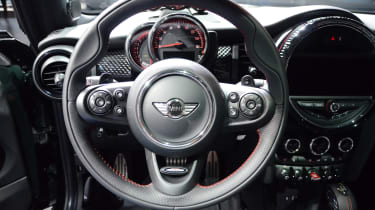 'The HUD in the Cooper S works great, any functionality Mini can add simply will make it better' - Hunter Skipworth, evo website editor
The fastest third-generation Mini – 228bhp, 0-60mph in 6.1 seconds – has sacrificed the Cooper S's head-up display for a gauge pod containing a stopwatch alongside oil pressure and, yes, turbo pressure readouts. If ever there was a feature to split opinion, this is it.
Alfa Romeo 4C Spider - centrally mounted exhaust
The hardtop 4C is categorically not short of aural theatre, but owners of the new Spider won't complain about the addition of an optional Akrapovic-sourced dual-mode exhaust. Centrally mounted in the Porsche GT3 style, Alfa optimistically claims a resonator eliminates cabin drone while a trick valve ensures the full Dr Jekyll to Mr Hyde effect as the revs climb.
Shelby GT350R - flat-plane crankshaft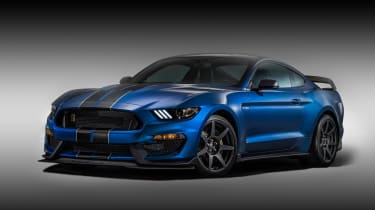 'The engine in the Mustang has traditionally been a workman-like device, but with this new flat-plane crank V8, the Shelby finally has a modern drivetrain' - Dan Prosser, road test editor
One can only imagine how utterly magnificent Ford's first ever production V8 with a flat-plane crankshaft is going to sound. The Shelby GT350R's powerplant is also the powerful naturally aspirated engine ever to leave the halls of the Blue Oval and the 5.2-litre unit develops 'at least' 493bhp. So, in what colour would you like your Ford-badged Ferrari?
Ford GT - flying buttresses
'The new Ford GT definitely looks stunning from the rear, but how useful is all that bodywork?' - Rob Gould, art director
More flying buttresses, but this time much, much more brazen than the Honda NSX's inconspicuous blades. The GT concept's tapered, teardrop carbonfibre body leaves a considerable gap between the central cell and the gaping air intakes required to cool its twin-turbocharged EcoBoost V6. Is this the first car ever built that would look wrong without flying buttresses?