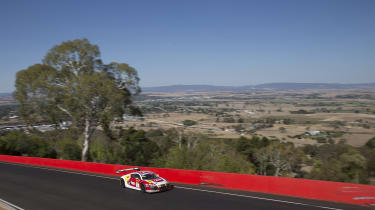 There was a brilliant motor race on over the weekend. As it took place on the other side of the world during the UK's normal hours of slumber it probably passed most of you by. I confess I missed most of it. But below is a video of the last ten minutes of the Bathhurst 12 Hours and if you watch it I think you'll understand why it's something to get excited about.
For a start the cars are recognisable silhouettes. Not just prosaic hatchback outlines that you see in the BTCC or WRC either, but instead the sort of sleek coupes and GTs that we all lust after and which appear at the top end of eCoty score sheets. Nimso GT-R battling Aston, Ferrari, Bentley and Lamborghini – it captures the imagination. Yes prototype racers and single seaters are interesting but I like seeing cars that bear some relation to normal life – they're generally prettier for a start. Having recognisable models is surely a massive boon for the manufacturers too. Win on Sunday, sell on Monday must be easier if it's a 458 or SLS crossing the line not just a badge attached to the protuberant nose of an F1 car?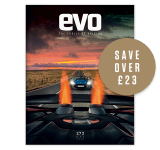 Subscribe to evo magazine
Subscribe today to have every issue of evo delivered straight to you. You'll SAVE 39% on the shop price, and get evo for its original cover price for a whole year!
The GT3 class seems to have got the Balance of Performance just right too. Different engine sizes, configurations and positions are littered throughout the grid. What's more, some cars have chosen to go down a higher power and higher weight route, while others have lower power and lower weight. Yet despite this diversity the racing is close and seven different manufacturers in the top seven positions is testament to the lack of dominance by any single design.
The next piece of the jigsaw is the circuit. Mount Panorama is simply wonderful. There's a bit of everything in the four-mile lap, from the long Conrod straight to the insanely twisting Mountain section. It must be a nightmare for the teams to set the cars up for. Being a street circuit adds to the spectacle too. For a start, there is that element of realism, that combines with the shapes of the cars to make the whole thing seem that little bit more enticing. Then there's the added jeopardy of tighter track limits, which also makes the speed of the cars easier to appreciate as they're hustled through the scenery.
Topped off with ace commentary from the inimitable John Hindhaugh, plus some fantastic camera angles inside the cars and you have a truly thrilling spectacle. There are a lot of ingredients there and I'm not saying that the racing would always be as down to the wire as it was in the frequently safety car interrupted Aussie thriller, but to me it's at least a template for what more racing should be like.
I know that there are existing championships out there with GT cars in and I also know that GT racing has been through something of a tumultuous time over the past years. But putting these GT3 cars on the right circuits seems to be an ideal worth pursuing and creating a championship around. I'm sure it wouldn't be that hard to come up with a list of appropriate circuits around the globe – start with the Bathurst 12 Hours and the Nurburgring 24 hours, and build from there. Perhaps GT racing is already on a meteoric rise to greater things and in blissful ignorance I'm merely chancing upon that blossoming. If so, brilliant. If not then I think there is a real opportunity for a fantastic series.