Chitty Chitty Bang Bang might prove a novel transportation concept, but we can't imagine it would be hugely fun when carving up the average British B-road.
But some movies take a much more evo approach to things, enlivening the silver screen with some truly great drivers' cars and unforgettable driving sequences.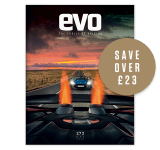 Subscribe to evo magazine
Subscribe today to have every issue of evo delivered straight to you. You'll SAVE 39% on the shop price, and get evo for its original cover price for a whole year!
Below you'll find a selection of our favourites - from full-on race vehicles to humbler drivers cars that nearly anyone can afford.
BMW 535i (E34) – Ronin (1998)
In one of cinema's most authentic car chases, Natascha McElhone threads an M5-aping 535i through Parisian traffic for nearly ten minutes, causing dozens of French diesel hatchbacks to crash.
Despite the Beemer's power, better weight balance and handling advantage, it fails to outrun Robert De Niro's Peugeot 406. The movie was filmed when front-driven Peugeots were nimble, but surely they weren't that nimble…
Nissan Skyline GT-R (R34) – 2 Fast 2 Furious (2003)
Fast and the Furious films have featured some pretty dubious vehicles in the past - or appealing cars rendered undesirable by hilarious early-2000s body kits - but Nissan's R34 Skyline GT-R, the poster boy for a generation of PlayStation gamers, was a highlight of the second film.
Paul Walker wins a Miami street race in his R34 before being felled by an EMP device. Worth it for the sonorous sound of the RB26DETT powerplant, but that contentious colour combination of silver and blue hasn't aged well.
Porsche 917 – Le Mans (1971)
A full 36 minutes pass before Steve McQueen speaks in Le Mans, but petrolheads will be more interested in the duel between the Gulf Porsche 917 and factory Ferrari 512.
Using real footage from the 24 Heures du Mans, the Porsches secure the top two places. A commercial flop at the box office when released, it is now famed for its almost non-existent plot structure and period-correct portrayal of the Circuit de la Sarthe.
Mercedes-Benz 450SEL 6.9 – C'etait un rendez-vous (1976)
We have all found ourselves running late to meet someone, but what happens when that person is your girlfriend? Director Claude Lelouch takes little over eight and a half minutes to scythe his way through early-morning Parisian streets in his pneumatically-suspended 450SEL.
Filmed in one take and with a shrieking Ferrari V12 soundtrack dubbed over in post-production, Rendezvous remains a masterclass in spirited driving. Sadly, not a feat repeatable today in the city's legendarily crazy traffic.
Lamborghini Countach – Cannonball Run (1981) and The Wolf of Wall Street (2013)
The Countach makes a cross-generational appearance in our list. If you can look past the awful US-regulation impact bumpers, a black Countach spears across the desert with Tara Buckman and Adrienne Barbeau on board. Despite some obviously sped-up footage, it still manages outrun most of the pack.
A white 25th Anniversary Countach is the drugged DiCaprio's vehicle of choice in The Wolf of Wall Street. The ensuing drive home where the car is nearly wrecked is a parody of the film's excess, as a genuine Anniversary model suffered cosmetic damage during its on-screen appearance.
Mini – The Italian Job (1969) and The Bourne Identity (2002)
The original diminutive hatch uses the city as its playground in both Turin and Paris. In the Michael Caine caper, three Coopers loaded with gold bullion negotiate a lunchtime traffic jam before ending up on the test track roof of the Fiat factory. Despite their payload they still manage to ford a weir and take flight, too.
The Bourne Identity sees Matt Damon use a battered Mini Mayfair owned by Franka Potente's character to evade French police and CIA agents, barrelling against traffic beside the Seine. In both chases, the Mini's ability to descend staircases is used – probably at the expense of each car's dampers.
Lamborghini Murcielago LP-640 – The Dark Knight (2008)
In order to stop an assassination attempt, Christian Bale races through the streets of Gotham only to use his grey Murcielago as a shield in a brutal crash.
Bale's Batman is a much darker character than that portrayed by Michael Keaton or George Clooney, and the angular Lamborghini suits the troubled Bruce Wayne's billionaire lifestyle perfectly. Watch for the aural delight that only a 6.5-litre V12 can provide when thrashed and you might just be able to put the Lamborghini's untimely ending out of your mind.
Acura NSX – Pulp Fiction (1994)
NSX commentators continually refer to Ayrton Senna's work in developing Honda's first supercar, but there's far more to the V6-engined wedge than that. Such as an appearance in one of the 1990s' most critically acclaimed movies.
Harvey Keitel delivers an exuberant standing start in one of the best-balanced mid-engined cars of the era, leaving a nonplussed Samuel L. Jackson and John Travolta literally standing in his dust.
Ferrari 575M Maranello – Bad Boys II (2003)
With cars flung from a transporter like bowling pins, you really need a well-balanced V12 coupe to avoid being crushed while you dance through traffic.
Will Smith and Martin Lawrence chase criminals down the MacArthur Causeway in a 575M that escaped unscathed from filming duties - if only because director Michael Bay's own 550 Maranello was used for most of the stunt work. Submachine guns, a powersliding Ferrari and Miami sunshine make it essential viewing.
Ford Mustang GT and Dodge Charger R/T - Bullitt (1968)
Two 1960s muscle cars wobble and wheelspin their way through San Francisco as cop Steve McQueen gives chase to shotgun-toting villians in a black Charger.
The evo office couldn't decide which deserved to make it into this list, so let us know your choice in the poll. The Mustang is undoubtedly the better drivers' car of the pair, though the Charger is considerably faster in a straight line and arguably the cooler of the pair.
Aston Martin DBS – Casino Royale (2006) and Quantum of Solace (2008)
James Bond's svelte DBS debuts in 2006's Casino Royale. Daniel Craig's company car is destroyed in a barrel-roll, filmed at the Millbrook Proving Ground, in his pursuit of Le Chiffre. The opening sequence of Quantum of Solace pits the Aston against a brace of Alfa Romeo 159s along the roads of Lake Garda.
Eon Productions must not like the DBS, however, as in both films several models were written off – with one DBS having to be retrieved from the bottom of Lake Garda after a stunt driver's accident.