Ask Goodwin - Should we hate trackdays?
Is it better to race properly in something cheap or splash out on an expensive trackday toy?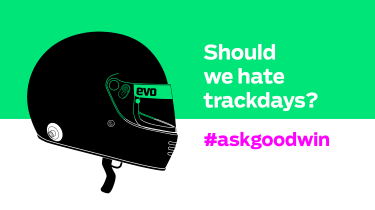 You once wrote a scathing column about track days. Do you still have the same ridiculous opinion of them? Chris Parker, Hull
I've mellowed a bit. I wrote that quite a few years ago and the gist of it was that if you want to take to the track you should go racing. Better, I think I said, to do a season in a low-powered Caterham than to spend a year wearing out tyres in a GT3 RS doing trackdays. I haven't changed my mind on that one.
Nothing beats competing. I did my first race in around 1988 in an Alfa Romeo GTV in what was then the Slick 50 Budget Saloon series. My first round was at Castle Combe. I spun in the rain on the way to the circuit (most Slick 50 competitors drove their cars to the races) and within a few laps realised that here was another sport that I wasn't going to be much good at. Since then I've raced single seaters, saloons, sports cars; I've rallied, ovalled, hillclimbed and although some skill came with practice, as I predicted in 1988 I was never close to making the grade. But at least I had had a go.
Last year a colleague was nicked for doing 127mph in Scotland. He was handed a huge fine, was banned for 15 months and worst of all, he was fired from his job as a road tester. This badly shook me up. Twenty years ago I was banned for doing a similar speed. Two weeks on the train, a couple of hundred quid and the full support of my editor at the time. Times have changed and today driving fast on UK roads is no longer worth the risk. What's more, virtually anywhere south of Birmingham traffic densities make it impossible.
My last racing licence sits in the pen holder on my desk with some paper clips, a metal biplane and two marker pens. It expired at the end of 2005. I doubt I will ever hold another one unless, by some miracle, Dickie Meaden needs some help driving his pal's Lola T70. 
The buzz of driving a car on the limit has not expired so you will see me from time to time taking part in trackdays. Call me a hypocrite, but I will probably be having too much fun to care.
Ask Goodwin is a weekly column on evo.co.uk by Colin Goodwin, one of the UK's most popular motoring journalists – and one of the early contributors to evo magazine. 
You'd like Colin – he drove an amphibious vehicle across the English channel (it caught fire half way) and he held the Guinness World Record for the highest speed in reverse (104 mph in a Light Car Company Rocket). More recently he drove from England to the Geneva motor show… in a Caterham 160.
Oh, and when he visits the evo office he does so in a plane that he built in his shed…
Check back every Wednesday lunchtime for a new column, and get involved with #askgoodwin either at @askgoodwin (Colin's Twitter) or @evomagazine. 
Make sure to get involved in the Ask Goodwin debate on our Facebook page here. You can also put your vote in via the poll system found on the evo.co.uk homepage