First, lets just get this out of the way, we're highly sceptical about Project Cars as a finished product. Release dates have been pushed back, various builds have been quite drastically different and lots more in between. Earlier builds have also been very sketchy.
But, most of the concerns have gone out the window now we've actually had some proper time with the most recent build of the game. It's still quite a ways off in some respects, but has the potential to be a perfect Gran Turismo stop gap before Polyphony Digital releases its next title for the PS4.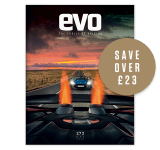 Subscribe to evo magazine
Subscribe today to have every issue of evo delivered straight to you. You'll SAVE 39% on the shop price, and get evo for its original cover price for a whole year!
Without doubt, Project Cars is a beautiful game, on PC at least. We played a build running in 4K on a huge TV and were truly staggered at the level of detail that had been put into each individual car. Running Audi's R18 e-tron quattro around the Circuit de la Sarthe, the amount of love that has gone into every minutiae of the vehicle and track is astounding.
evo's own Richard Meaden recently drove the R18 in real life and it was impressive to see just how closely the two were matched. What was far less realistic was the sense of speed that the R18 carried. This is a hugely quick vehicle, but in Project Cars, the R18 feels like a milk float.
This means getting your braking zones right is virtually impossible, as the braking physics is almost bang on, but the sense of speed isn't. It'll feel like you're doing 60mph, when you're actually doing 120 and you will end up under-braking the car at every corner.
The other concern we have is with the graphical drop that the game takes from PC to console. All the pre-amble around the title has been downright incredible visually and our time spent with the PC build makes it entirely clear that this is the case. On the next-gen consoles however things change.
We aren't saying it's a bad looking game, but just be aware that the truly incredible visuals aren't there on consoles. Incidentally the version we tested was on the Xbox One, so we can't speak for the PS4 yet. We would say though that Project Cars is easily on a par with the likes of Drive Club or Forza.
What we really can't complain about with Project Cars is the sheer amount of content on offer. There is a vast number of tracks and cars to enjoy, ranging all the way from the likes of a BAC Mono or BMW M1, up to a proper full on Le Mans LMP1 car.
AI performed well, sticking to a line but offering up plenty of good racing when you pushed for an overtake. Crucially, never did the game feel remotely unfair or unrealistic.
In fact, quite the opposite, aside from the engine notes and the strange sense of speed, Project Cars has probably the best handling model on next-gen consoles at the moment, which means for serious sim-fans it's going to be a treat.
For those who are tempted, Project Cars is set for release on the 8th May.