2015 has already welcomed the arrival of more than a dozen drivers' cars. But while the supercars hog the limelight, it's the more affordable offerings we often find most enticing; they're the ones more of us can realistically attain, after all.
Below, we look at six evo-approved cars that you can buy for less than £25,000 that have arrived (or will arrive) in 2015. Which are you most excited about? Let us know in the comments.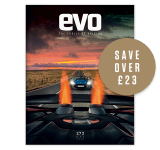 Subscribe to evo magazine
Subscribe today to have every issue of evo delivered straight to you. You'll SAVE 39% on the shop price, and get evo for its original cover price for a whole year!
Mazda MX-5
100kg lighter, 105mm smaller and 25 per cent more efficient than the car it replaces, the Mk4 MX-5 has halted the progressive weight gain of its predecessors and has taken a leaf out of the original Mk1's book. 
Confirmation of this comes with the car's drivetrains. Mazda has refrained from chasing big numbers with turbo power, instead offering two naturally aspirated engines: a 129bhp 1.5-litre or 158bhp 2-litre. 
So why are we so excited about the MX-5? The car weighs just a whisker over a ton and benefits from perfect 50:50 weight-distribution. Those are certainly some enticing ingredients for a back-to-basics sports car. 
And it gets better, because the new MX-5 will start from £18,495. That's a little more than Fiesta ST money for a proper rear-drive, drop-top sports car.
Renaultsport Clio 220 Trophy
Renaultsport has a habit of getting things right the second time. Remember the 197? We thought it lacked the urgency and excitement of its predecessor, the 182, but then Renaultsport responded with the 200. That car not only fixed the 197's issues, it took things to a whole new level.
We're expecting (and hoping) for something similar with the forthcoming 220 Trophy, which not only gets a 20bhp power hike (to produce 217bhp), but also receives a 50 per cent faster paddle-shift dual-clutch gearbox.
The Trophy will also sit 20mm and 10mm lower (front-rear), on springs that are 40 per cent stiffer. So while the softened (and often torque steer inducing) 200 Turbo disappointed in so many ways, the 220 Trophy could make Renaultsport a serious contender in hot-hatchdom once again. 
How much will it cost? Prices are yet to be confirmed, but we expect it to start just above £20,000.
Mini John Cooper Works
The new Mini might look a little bulbous, but as our tests in the latest Cooper confirm, it's more capable than ever. 2015 has welcomed the arrival of the hotter John Cooper Works, the Cooper S's more focused sibling.
In the JCW, the turbocharged 2-litre four-cylinder of the S has been uprated to produce 228bhp and 236lb ft of torque, while the suspension and electromechanical steering have also been fine-tuned to sharpen handling. 
Prices start at £22,865, so it's not cheap, but we expect the JCW to transform the new Mini into an excitable little hot hatch. 
Vauxhall Corsa VXR 
Wanting to build on the strong sales of its outgoing VXR, Vauxhall's latest hot hatch shares many features with its predecessor. As a result, it appears the new car represents evolution rather than revolution. 
But that doesn't make it any less enticing however. The new car's turbocharged 1.6-litre four-cylinder engine now produces 202bhp and 206lb ft of torque, up from 189bhp and 192lb ft compared with its predecessor.
Features from the predecessor's track-focused Nurburgring and Clubsport models are now also available as part of a Performance Package. Our reviews of those old models confirmed that their Drexler limited-slip differentials were, in short, brilliant, encouraging drivers to be aggressive with the throttle pedal.
So the new VXR gets more power and harder-edged chassis options, while still retaining the old car's handsome looks, albeit in an evolved form.
Our first drives have confirmed that while it's not as dynamically exciting as say, a Ford Fiesta ST, the overall package is a strong one. And at £17,995 (before the desirable Performance Package), it's priced competitively too. 
Volkswagen Polo GTI
We love the Volkswagen Golf GTI and the way it mixes practicality and refinement with a dynamically exploitable chassis. Its smaller brother, the Polo GTI, borrows some of the Golf's DNA – with Golf-influenced rear suspension revisions – so we've been expecting big things from the beefed-up supermini. 
Our first impressions confirm it possesses the Golf's frisky yet dependable chassis characteristics, with good body control and close to no body roll on circuit.
But the Polo loses out by not allowing all of its electronic assistance to be switched off, which detracts from the experience if you want to seriously press on as the systems cut power and prematurely halt slides. 
And with an £18,850 starting price, it's more expensive than several rivals (namely the Fiesta ST). Even so, we're still confident it'll sell well thanks to its better build quality, user friendliness and undeniably handsome looks.
Peugeot 208 GTI by Peugeot Sport
The latest 208 GTI is Peugeot's best hot hatch in years. We gave it a solid four out of five stars in our review, with the more focused 30th Anniversary attaining an extra half a star thanks to increased agility and grip.
And that's why we're so excited about the latest GTI by Peugeot Sport, because it's set to receive optional parts from the limited-run 30th Anniversary. 
That should mean not only is the Peugeot well placed to challenge for the hot hatch crown, it'll also be a strong contender for the similarly ramped-up Renaultsport Clio 220 Trophy.
Prices start at £18,900 for a regular GTI, though we'd advise on those 'by Peugeot Sport' upgrades, to benefit from the characteristics that make the 30th Anniversary one of our favourite hot hatchbacks.