Ask Goodwin – Should we spy on our kids behind the wheel?
Goodwin gives us his opinion of fitting insurance black boxes to youngsters' cars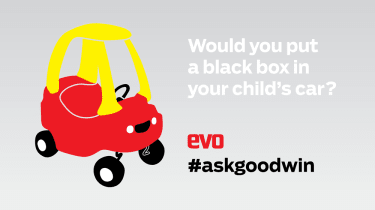 Would you put a black box in your child's car? I'm considering it. Paul Gunn, Hemel Hemptsead.
It's an interesting one. My daughter (my only offspring) learnt to drive about six years ago, which was about the time the idea of putting telemetry into cars to monitor driver behaviour was first mooted. And, I think, first available. It was irrelevant for us because there was no way that I was going to buy her a new car, a) Because I had to buy my own car when I was a teenager and b) All my spare cash goes into my own fleet of vehicles. So she bought herself a tatty, but sound Peugeot 206. I think the insurance was about £700 a year that she paid monthly. This car was replaced by another 206 and more recently by an Mk1 Mazda MX-5 which cost her under £500 for TPF&T cover. 
Had I had a windfall and been a more generous father it might have been a different story and she would have had a brand new car. The trouble is, a black box is very much against my principles. I'm a bit old fashioned and I think kids should learn to be responsible for their own actions. Get caught speeding, have a crash or commit another point accumulating offence and your insurance premium will go up. Be sensible and all would be good.
I have a similar attitude to risk taking. I wasn't too worried about her buying the Mazda even though being a Mk1 (hers was that basic steel-wheeled model with the 1.6 engine) it was missing active safety kit such as ABS and didn't have an airbag to its name. I explained to her that it would be more challenging to drive than her 206s and that she should be cautious in the wet and leave generous gaps and long braking distances. 
But to answer the original question, I think I would put the question to the offspring involved. If they'd be happy with a spy in the cab and the possible savings in car insurance (if they were paying for it themselves) then they should have one fitted.
Ask Goodwin is a new weekly column on evo.co.uk by Colin Goodwin, one of the UK's most popular motoring journalists – and one of the early contributors to evo magazine. 
You'd like Colin – he drove an amphibious vehicle across the English channel (it caught fire half way) and he held the Guinness World Record for the highest speed in reverse (104 mph in a Light Car Company Rocket). More recently he drove from England to the Geneva motor show… in a Caterham 160.
Oh, and when he visits the evo office he does so in a plane that he built in his shed…
Check back every Wednesday lunchtime for a new column, and get involved with #askgoodwin either at @askgoodwin (Colin's Twitter) or @evomagazine. 
Make sure to get involved in the Ask Goodwin debate on our Facebook page here. You can also put your vote in via the poll system found on the evo.co.uk homepage.