Ask Goodwin - What's your opinion on the sport of drifting?
Watching cars going sideways is always entertaining, but Goodwin still has his preferences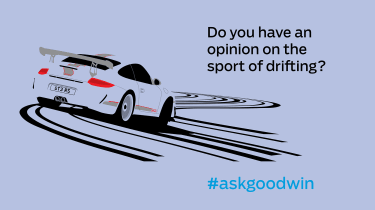 Do you have an opinion on the sport of drifting? Tim Parker, Esher, Surrey
Yes, I have an opinion. First off, I don't like criticising other peoples' tastes in activity. I can't stand polishing and posing contests like Salon Privé, but if someone wants to own an amazing old car and not use it for fear of getting dust on the differential housing that's down to them. Drifting is an interesting one. I used to be involved in organising a contest in a previous life. We used an expanse of concrete and contestants were challenged to drift in a perfect circle with the minimum of arm twirling and throttle pumping.
We held the contest for several years and during that time we had some very interesting people have a go. The late Richard Burns was there, Tiff Needell was in heaven, the Old Bill's top driving instructor cracked a smile, a young lad called Lewis Hamilton (who wasn't old enough to drive, if I remember correctly) put a few of the oldies to shame, and even Jody Scheckter took time out from making organic sausages to see what he could do with an E36 M3. I sat next to many of these people and observed their skills. What was amazing was how people who you'd expect to be brilliant struggled with the discipline. Burns, for example, didn't excel. In fact, he was in awe of multiple champion Alistair McQueen, the ex-Lotus chassis engineer. Scheckter wasn't very good either, which surprised me as I'd seen him on opposite lock at 150mph in a McLaren M23. And here's my problem with drifting: it's a fairly unrealistic situation performed in bespoke cars made for the job. It's skillful, impressive to watch and I'm no good at it, but give me the sight of a top driver in a Ferrari GTO correcting a slide and I'm in awe.
Have you seen the in-car footage of Kenny Brack wrestling with a GT40 at Goodwood in the damp? Now that was car control. Car control that I'd pay money to see. I'll leave the sight of a sliding and smoking modified Nissan 200SX to others.
Ask Goodwin is a weekly column on evo.co.uk by Colin Goodwin, one of the UK's most popular motoring journalists – and one of the early contributors to evo magazine. 
You'd like Colin – he drove an amphibious vehicle across the English channel (it caught fire half way) and he held the Guinness World Record for the highest speed in reverse (104 mph in a Light Car Company Rocket). More recently he drove from England to the Geneva motor show… in a Caterham 160.
Oh, and when he visits the evo office he does so in a plane that he built in his shed…
Check back every Wednesday lunchtime for a new column, and get involved with #askgoodwin either at @askgoodwin (Colin's Twitter) or @evomagazine. 
Make sure to get involved in the Ask Goodwin debate on our Facebook page here. You can also put your vote in via the poll system found on the evo.co.uk homepage