Ask Goodwin - Do you have the coolest job in the world?
Motoring journalists are often told they have the best jobs in the world. Does Colin Goodwin agree?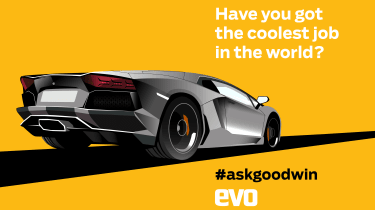 Have you got the coolest job in the world? Sandra McNab, Isleworth
Of course I have. I'd have liked to have been a racing driver or a fighter pilot but deficiencies in several areas (the brain, mainly) ruled out both of those lines of work. Actually, a couple of years ago I was sat next to a Red Arrows pilot at a do and when I told him what I did for a crust he was all over the shop. 'You lucky bastard,' he said, 'that's the best job in the world.' He was an evo reader to boot and when I told that I'd written for the magazine and that I knew Harry, John and Dickie he almost moved tables.
Naturally, being paid to drive incredible cars is one of the main benefits. So too is the travel, which often combines the former. Did you see Harry Metcalfe's trip to the Sahara in his Testarossa that he recently wrote about in Octane? That trip was inspired by one I was involved in in 1995. We were away for ten days with a F512M staying in the most amazing places.
But in fact it's not so much the cars, it's the people that you get to meet that really makes this such an amazing life. An afternoon twenty years ago having tea in Stirling Moss's sitting room trying to concentrate on the interview I was meant to be conducting but instead just thinking 'Shit, I'm with Stirling Moss.' The list is endless. Being in the same room as Moss and Fangio; interviewing Mario Andretti, Jackie Stewart and Chris Amon about the March 701 F1 car that I'd just driven. Two days in a TVR Cerbera with Peter Wheeler.
But best of all, it's the working with people who are having as much fun as you are in a working environment in which there is very little complaining. At least not about the job. I'd done 11 different jobs before I started in this lark and most of them, apart from driving fork lift trucks, were pretty dire. I was even an estate agent for a few years but that is not a period of my life that I like to remember.
Ask Goodwin is a weekly column on evo.co.uk by Colin Goodwin, one of the UK's most popular motoring journalists – and one of the early contributors to evo magazine. 
You'd like Colin – he drove an amphibious vehicle across the English channel (it caught fire half way) and he held the Guinness World Record for the highest speed in reverse (104 mph in a Light Car Company Rocket). More recently he drove from England to the Geneva motor show… in a Caterham 160.
Oh, and when he visits the evo office he does so in a plane that he built in his shed…
Check back every Wednesday lunchtime for a new column, and get involved with #askgoodwin either at @askgoodwin (Colin's Twitter) or @evomagazine. 
Make sure to get involved in the Ask Goodwin debate on our Facebook page here. You can also put your vote in via the poll system found on the evo.co.uk homepage